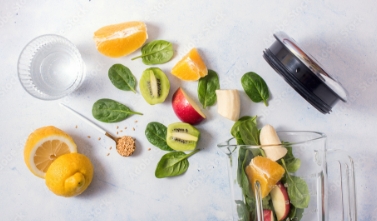 Functional Foods Growth Series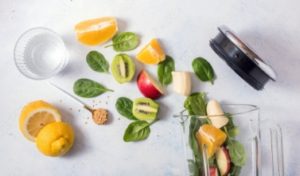 Learn how almond-based ingredients can be used in a wide variety of functional formulations that meet consumer demand, such as:
Protein-Packed Smoothie
Low-Carb Pizza Crust
Creamy Frozen Custard
Immune-supporting claims are potentially the greatest current opportunity within the food and beverage industry, according to Mintel1. Innova Marketing Insights2 found that 6 in 10 global consumers are looking for food and beverage products that support their immune systems. Despite the consumer interest in functional foods and beverages being at an all-time high, there's still plenty of room for innovation within the market3. Want to learn how to meet the growing demand for functional foods and beverages, while still following plant-based, clean-label trends?
Here are a few ideas to help innovate functional foods that meet consumer needs:
1. Protein-Packed Smoothie:
Almond protein powder's mild flavor profile combines well with fresh ingredients, such as strawberries, bananas, and spinach. The clean mouthfeel and ultra-fine texture of almond protein powder helps provide a smooth consistency, without overpowering the other ingredient flavors due to its neutral flavor. Almond protein powder allows for greater versatility and highly positive consumer perception. Other common applications including protein are hot cereals and nutrition bars.
Almond flour appeals to the health-conscious consumer, offering a more nutritious substitute for processed wheat flours. For example, it can help deliver a crispy, crunchy texture for a functional, gluten-free pizza or pie. Almond flour contains lots of healthy fat, fiber and protein that helps create a light, airy texture consumers expect from their crust. The smooth mouthfeel and flour-like consistency allows formulators to work with the product to achieve a desired texture.
3. Creamy Frozen Custard:
For alt-dairy treats, formulators can rely on the power of almond butter, which means they won't have to sacrifice taste, texture or clean label. Almond butter combines seamlessly with other functional ingredients. Plus, it contains all of the superfood qualities boasted by almonds, but in an indulgent form that allows for sweet, creamy, custard-like texture in an alt-dairy creation.
Is inspiration for a brand new functional food or beverage striking? Keep the momentum for innovation going and contact us today to learn more about how you can innovate products that satisfy today's trends with the help of almonds and almond ingredients.
References:
1 "Food and Drink Nutrition Claims: Including Impact of COVID-19 US," December 2020.
2 "What retailers need to know about immune-boosting foods," Specialty Food Magazine. June 2021.
3 "Functional Drinks," Mintel. 2021.

Subscribe for More
Blue Diamond Insights