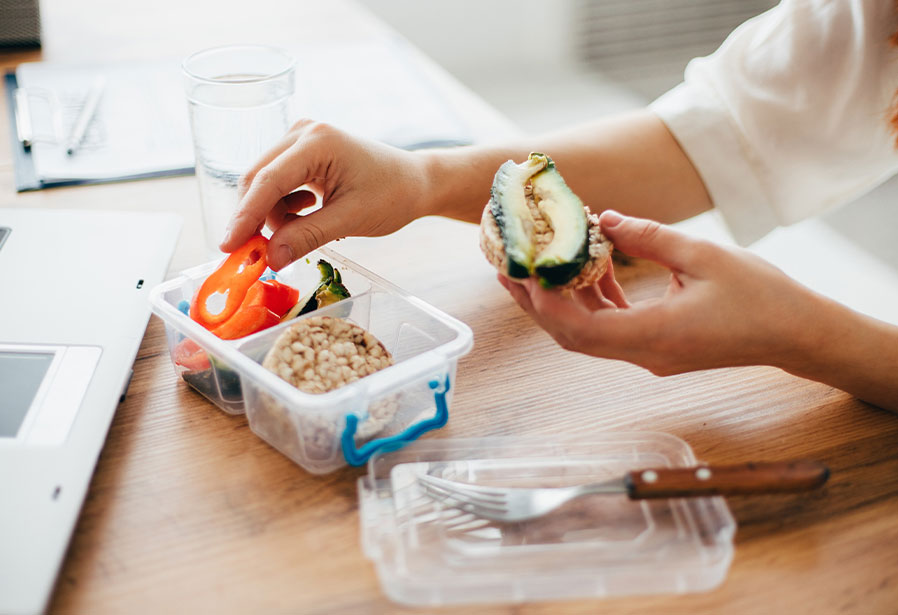 Learn what consumers are expecting from convenience foods in 2023, as well as:
What's driving the convenience trend
The longevity of convenience
Innovation challenges
As consumers continue to lead busy lives, the demands within the food and beverage industry continue to evolve alongside them, resulting in a growing trend of healthy, on-the-go consumption patterns. Currently, the food market generates $71.46 billion in revenue, but is expected to grow at an annual rate of 3.39% by 20271 with the interest in on-the-go consumption rising.  
We spoke with Michael Coe, Sales Director at Blue Diamond Growers, about the predicted shifts in convenience food and beverage offerings and how almonds can help developers keep up with the rapidly changing consumer trends in 2023. 
What's driving the growth of consumer interest in convenience foods and beverages?
As younger generations, such as millennials and Gen Z, transition into adulthood, we are noticing a shift from the traditional three meal a day approach to a more fluid form of snacking throughout the day as it best fits the individual's lifestyle. These generations hold increasing amounts of purchase power as their careers evolve, warranting product developers' attention. 
Additionally, as these generations begin to start families, aspects such as diet and eating patterns filter down to their children. Given the younger generation's thirst for more active, on-the-go lifestyles, consumers are looking for products that satisfy both the convenient format and provide different consumption experiences without sacrificing nutrition. 
Do you expect interest in these on-the-go products to fade out, or do you think the demand will continue to grow?
I expect the demand will continue to grow. We are witnessing a growing re-emergence in the desire for on-the-go products as consumers return to a pre-pandemic lifestyle. Amongst many consumers, there seems to be an appetite to get back the active lifestyles of the past and make up for lost time. This provides opportunities for product developers and food manufacturers to optimize and innovate existing products to deliver convenience to consumers in a way that best supports trends, like convenience. 
What specific benefits are consumers expecting out of convenience-focused goods?
There continues to be a growing sentiment that convenience does not automatically equal nutritionally inferior products. From a consumer standpoint, the on-the-go lifestyle won't be the detriment of their health and wellness goals, showing a desire for healthy and convenient products wrapped into one offering. Delivering a convenience-focused offering that brings great taste, but also boasts benefits such as gut health, mental well-being, while delivering claims, including high in fiber or vitamin E, can grab the attention of today's consumers. 
What are the most common challenges when it comes to innovating convenience foods and beverages?
The rate at which consumer demands and behaviors are changing is one of the most common challenges facing innovation in 2023. The influential trends we saw in 2022 will stick with consumers in future years, helping shape and evolve how we think about convenience foods and beverages. In the convenience category, this will result in the demand for products that are not only convenient, but nutritious and plant-based while made with sustainable practices. This innovative intertwining of consumer demands will require brands to carefully select ingredients that can meet a multitude of shifting needs.  
How can almonds help innovate a convenient, on-the-go food or drink?
Almonds bring versatility like few ingredients can. The traditional heart-healthy crunch can be delivered in a range of ingredient forms to supplement both the taste profile, and texture of baked goods and bars. Beyond that, ingredients such as almond butter and almond protein powder can bring the benefits of almonds to more non-traditional product applications, like beverages or smoothies, by delivering functional benefits that optimize a product's mouthfeel and taste profile. In 2023, the versatility of almonds will not only allow them to be a primary driver in the plant-based space for both on-the-go food and drink products, but also supplement more traditional product types by providing crunch, taste, texture and mouthfeel that will be well-received globally. 
Looking for more applied almond expertise from the Blue Diamond team to help fuel innovation in 2023? Contact us with any ingredient-related questions that you have and start the process of creating the next healthy, on-the-go offering today! 
References:
"Convenience Food-North America," Statista 2022.
Sign Up for Monthly Access
to the Latest Insights!
Data submitted using this form will be used to provide services and may be used to send marketing materials, in accordance with our Privacy Policy.
Sign Up for Monthly Access to the Latest Insights!
Data submitted using this form will be used to provide services and may be used to send marketing materials, in accordance with our Privacy Policy.