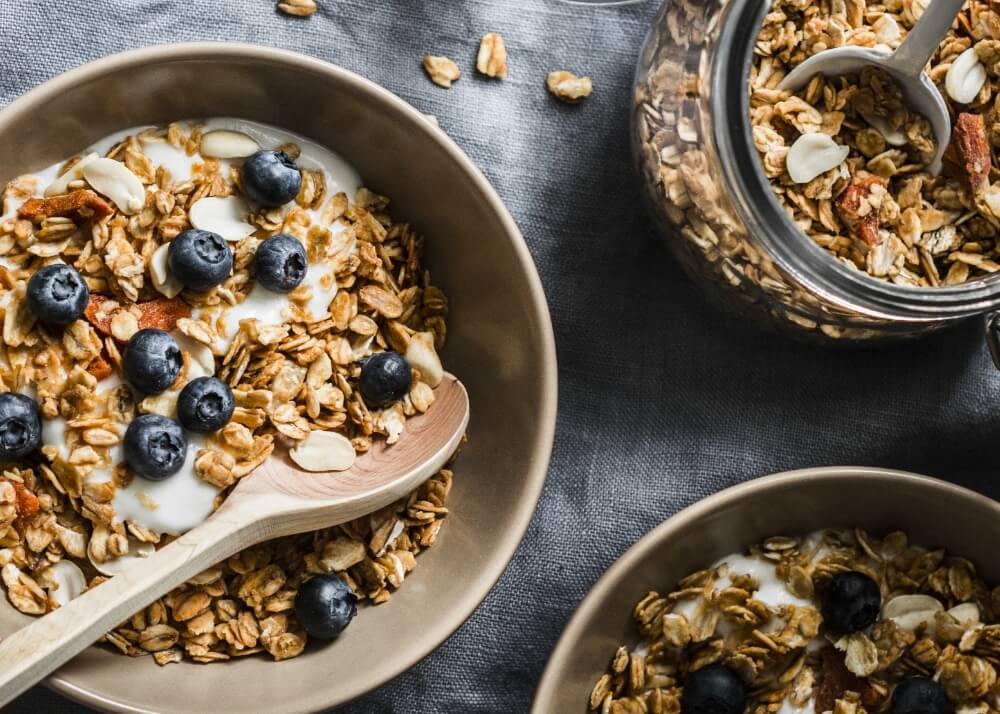 Blue Diamond's Laura Gerhard, Vice President of Global Ingredients, discusses:
Shifts in consumers' breakfast habits
Breakfast innovation trends
Opportunities for innovation with almonds
Consumers not only want healthier breakfast options with natural ingredients, plant-based protein, and satiating fiber, they also expect those products to offer outstanding taste and texture.
We talked with Laura Gerhard, Vice President of Blue Diamond Global Ingredients Division, about how product developers can tap into evolving breakfast trends and meet these emerging consumer demands.
1. How have consumers' breakfast habits shifted over the last year?
Throughout the pandemic, consumers have had more time to prepare and eat breakfast in the morning. Many are now opting for a bowl of their favorite cereal instead of a meal replacement bar. In fact, Mintel reports that more than a third of consumers are buying and eating more cereal during the pandemic.1
It will be important for product developers to tap into the "at-home" breakfast occasion as many continue to work remotely this year and in the future. This could mean a slight shift away from the single-serve, on-the-go breakfast formats toward large package sizes and cereal offerings that are good for the whole family, featuring all-natural ingredients and added health benefits.
2. What do consumers look for in breakfast or cereal products?
Many consumers are interested in better-for-you breakfast offerings, opting for those that have healthier inclusions, less sugar, and higher protein content. At the same time, there is a growing desire for cereals and breakfast foods with creative flavor profiles and indulgent mix-ins.
There's significant opportunity for brands to innovate new selections that can balance health and wellness trends with demands for more creativity. Adding contrasting textures through fruit and nut inclusions is one way that brands could appeal to these emerging trends.
3. What will drive innovation in the year ahead?
We expect brands to innovate with a strong focus on plant-based ingredients, especially those that add versatile nutritional benefits like protein and fiber. Consumers are looking for foods that can contribute to a healthy immune system and digestive system, placing a renewed importance on high fiber content in breakfast foods.
The preference for sustainable foods and a clean label will also continue to drive increased use of plant-based ingredients in breakfast offerings. A recent Mintel survey revealed that 42% of cereal consumers in the UK say that environmental concerns affect their choice of breakfast cereal.
4. What can almonds bring to breakfast foods in terms of functionality and variety?
Almonds are a satisfying, versatile way to fuel healthy, active lifestyles and an easy way to add powerful nutrition and crunch to breakfast cereals. An almond inclusion – such as almond slices, dices, or slivers – adds to total protein and nutritional content, which is very important for consumers looking for a healthy and convenient breakfast option.
Dry roasted almonds are especially ideal for cereal applications because they offer a more complex flavor profile than unroasted almonds and have an extra crunchy texture. Other almond ingredients, such as almond protein powder, can also be featured in breakfast products, adding plant-based protein and fiber to cereal and breakfast bars.
Sources:
"The Future of Breakfast Cereals 2021," Mintel. February 2021.
Article originally published July 1.
Subscribe for More
Blue Diamond Insights