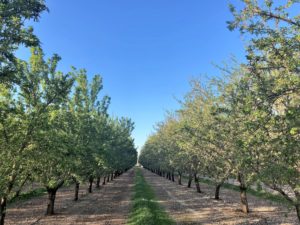 This report covers the conditions and activities observed from February 26, 2021 to March 4, 2021. Written updates will be posted regularly on Fridays throughout bloom and will have a more regionalized focus. Additional updates will be posted as needed.
Petals are falling and orchard floors look covered in snow from a distance as bloom winds down across California. All but the late blooming Butte and Padre and a few Carmel orchards have under 20% of their flowers still viable. It is anticipated that most early blooming soft-shelled varieties will have less than 5% of their flowers viable after the weekend. Bloom overlap was very good this year as most compatible varieties bloomed within a day or two of each other. Bees flew for six or more hours per day in all regions with few exceptions. There have been adequate hours for bees to pollinate the crop, but it remains to be seen how many nuts the trees will hold. As bloom finishes up, growers are beginning to assess their crop.
"Carmels seem to be really light, and Nonpareils have been spotty," said Atwater area grower Keith Peaster. "But my Butte-Padres and Independence look promising. I think it'll make a good crop, but I don't think it'll be like last year."  Read more..