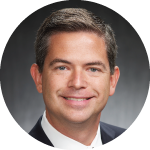 Mark D. Jansen
President and Chief Executive Officer
Mark Jansen was selected by the Blue Diamond Growers Board of Directors to become President and Chief Executive Officer in October 2010. With a unique understanding of the branded retail and food service business, Mark's career achievements include leading the brand growth for Häagen-Dazs, Betty Crocker, Totino's, Pillsbury, Red Baron, Freschetta, Wolfgang Puck, Tony's and Minh.
Mark's vision for Blue Diamond Growers is that it is a unique company that will grow to deliver the benefits of almonds to the world, while preserving the values that define its long-standing partnerships with its owner-growers, business partners and employees. The cooperative's values—partnership, quality, innovation and integrity—shape daily decisions and actions.
Prior to joining Blue Diamond, Mark was president of Schwan's Food Service in Marshall, Minnesota, where he led the profitable turnaround of the division. He also worked for the Pillsbury Company, Edison Brothers Stores, Inc. and General Mills, Inc. Mark received his MBA in Marketing and Finance from the Kellogg School of Business at Northwestern University in 1994.
Mark currently serves on the Executive Council for the California Chamber of Commerce, is on the Executive Council for the National Council of Farmer Cooperatives, is a Director for the International Nut and Dried Fruit Council, and is on the Board of Trustees for the Graduate Institute of Cooperative Learning.

Follow Mark Jansen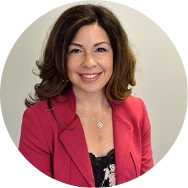 Laura Gerhard
Vice President, Global Ingredients Division
Laura Gerhard was promoted in 2021 to Vice President to assume leadership responsibilities for Blue Diamond's Global Ingredients Division. Laura leads day-to-day operations of the division, which supplies almond ingredients for processed and prepared food manufacturers, as well as for bulk purchase, around the world. She also oversees the commercial success of the division's global product portfolio, which includes a growing array of almond-based ingredients, such as almond protein powder, almond flour, and almond butter.
Ms. Gerhard began her career with Blue Diamond Growers in 2017 as Director of Strategy and Planning for the Global Ingredients Division.