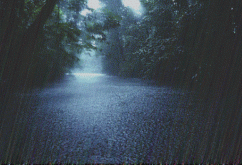 The following excerpts on the drought situation in California come from a recent article by Daniel Swain from WeatherWest.com posted October 8, 2015.
All-time record warmth despite Southern California rain
It has been a relentlessly warm year across essentially all of California.
Not only is 2015 California's warmest year on record to date (beating the previous record set all the way back in 2014), but the details of the persistently elevated temperatures have been particularly oppressive. Heatwaves have been a frequent occurrence throughout the state this summer and now continuing into early autumn, but it's not just afternoon highs that have been stifling: overnight minimum temperatures, buoyed by the incredible warmth of the nearshore Pacific waters, have been far above their typical levels. This has been especially true in Southern California, where water temperatures as high as 80 F (!) have essentially shut off the natural ocean "air conditioner."
Extremely warm ocean temperatures have also interacted with an unusually high number of atmospheric disturbances to bring highly anomalous warm season precipitation to Southern California. Some of these disturbances have been tropical in nature (most memorably, the remnants of Hurricane Dolores back in July), but more recently the culprit has been a series of erratic and slow-moving cut-off lows.
These systems have provided the large-scale conditions necessary for the formation of widespread showers and thunderstorms—not just in the typical mountain and desert regions—and the record-warm ocean has added a large amount of extra moisture into the atmosphere (which is likely a substantial factor in the numerous rainfall records set this summer).
Unfortunately, these out-of-season rains have not extended to Northern California, which has been left largely dry (and very warm), and extreme fire risk persists. It's important to keep in mind, however, that mostly dry (and often warm) conditions are pretty typical in the region at least through the middle of October.
Cut-off low to make a return visit to California
In an impressively circuitous turn of events, the very same cutoff low that brought strong winds to Northern California and thunderstorms to Southern California last week will swing back toward the state in the coming days.
Cut-off lows—so named because their center of circulation is "cut off" from the prevailing west-to-east winds that characterize the mid-latitudes—tend to exhibit erratic trajectories and can be notoriously tricky to forecast in advance. The unusual track of the incoming low—originally from the northwest, but now from the east or even southeast—is no exception, which makes the eventual impacts of the low's return visit subject to considerable uncertainty.
It does appear that this low will eventually bring some precipitation once again in at least Southern California, and perhaps parts Northern California as well. Details are vague at this early juncture, but it does appear likely that this system will pick up some additional subtropical moisture sometime next week before interacting with an eastward-moving trough over the North Pacific. Showers—and perhaps thunderstorms—could again affect a pretty wide swath of the Golden State next week. There is some concern—especially given the lack of recent rainfall in the north—that convective activity associated with this system could lead to new wildfire starts. While it's still too early to say for sure, this possibility serves as an important reminder that conditions are still extremely dry across most of California, and wildfire season is definitely not over yet. The unusual regional atmospheric circulation pattern allowing the cut-off to loop around the Southwest will also bring another prolonged period of southeasterly winds to much of California, bringing yet more warmth and humidity to the southern 2/3 of the state over the coming week. Anomalous warmth will likely extend across most of California, but the Los Angeles and San Diego areas will be most strongly affected.
Hurricane Oho taking a remarkable northward track
Central Pacific Hurricane Oho is making a virtually unprecedented northward beeline for the Gulf of Alaska. After weakening from a category 2 storm, Oho is expected to slowly transition into an extratropical (non warm-core) system as it accelerates northward in the coming days. Very impressively, it appears likely that Oho will retain some tropical characteristics (and perhaps hurricane strength winds) as far north as San Francisco (but out over the open ocean well to the west of California). While Oho will not bring any noticeable impacts to California (aside from some unusual surf conditions), it may bring very heavy precipitation and powerful near hurricane-force winds to parts of southeastern Alaska and far northern British Columbia, where it will make landfall this weekend.
El Niño already top-3 event in modern history; further strengthening still expected
I actually don't have all that much to update on the El Niño front at the moment, since everything's still on track for a very strong event during the coming winter. In fact, the most recently observational data now clearly indicates that the present event is already comparable in magnitude to both the 1982-1983 and 1997-1998 events, which were the strongest in the long-term record. North American and international forecast models continue to project further strengthening of warm topical Pacific Ocean temperature anomalies for another 1-3 months, with peak magnitude arriving sometime during Northern Hemisphere winter.
California impacts—in the form of wetter-than-average conditions–are still expected to be greatest during the core rainy season months of January-March (and perhaps also December), which means that we shouldn't necessarily expect to see wetter than average conditions in October and November. It does, however, look very warm over the next couple of months, which virtually assures that 2015 will become California's warmest year on record.
California's drought condition and its impact on the California Almond crop is an important topic for our readers. Blue Diamond would like to thank Mr. Swain for allowing us to post excerpts of his articles on our website. To view the article in its entirety click here.
 © 2015 WEATHER WEST