Planting Sustainable Roots
For Our Global Customers
Planting Sustainable Roots For Our Global Customers
Presented by Blue Diamond Global Ingredients Division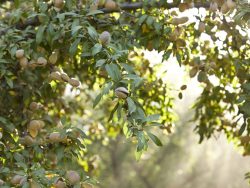 85% of global consumers are shifting purchasing behaviors toward being more sustainable. Learn how formulating with sustainability in mind can help you capture greater market share.
In this 30-minute session you will learn about:
How consumer demand for sustainable products is driving change in the market
Our sustainable agriculture and production processes
How Blue Diamond can help you improve your formulation efforts
Don't miss this informative growth opportunity.
Meet the Expert
Dr. Dan Sonke is ready to share new and useful applied almond expertise to help you meet consumer demand for sustainably-produced food choices.

Dr. Dan Sonke
Director of Sustainability,
Blue Diamond Growers
Dr. Sonke grew up on a Blue Diamond cooperative-affiliated almond orchard and has nurtured a lifelong interest in agricultural science. After designing a unique Sustainable Agriculture degree from Dordt University in northwest Iowa, he spent several years training development workers and supervising a seed bank before returning to school at the University of Florida, from which he earned a Doctorate in Plant Medicine (a cross-disciplinary field comprising plant pathology, entomology, soil science and agriculture production). He is a recognized industry expert in sustainable agriculture, having directed programs for leading names before landing back home at Blue Diamond.
In addition to his distinguished career, Dr. Sonke is a dedicated volunteer, and has led or been a member of several nonprofit boards and committees.
Don't miss this opportunity to learn from these respected Blue Diamond experts. Register for access now.
Register for access HERE:
Data submitted using this form will be used to provide services and may be used to send marketing materials, in accordance with our Privacy Policy.