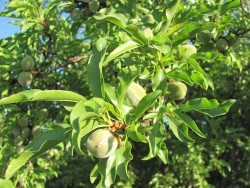 The following excerpts on the drought situation in California come from a recent article by Daniel Swain from WeatherWest.com posted April 6, 2016
Essentially all of California received an early taste of summer-like temperatures this week. A very strong ridge of high pressure aligned with the West Coast brought very warm to hot conditions to a wide region–and a number of temperature records were set on Wednesday from Southern California all the way north into British Columbia.
As anticipated, the month of March did ultimately bring much-needed heavy precipitation to the northern 2/3 of the state–with many areas ending the month around 150-200% of the long-term monthly average precipitation. Southern California, on the hand, remained rather dry. This north/south split in precipitation has persisted through the entire winter despite the presence of very strong El Nino conditions in the Pacific.
There is some positive news to report: the Sierra Nevada snowpack as of April 1 is much healthier than in recent drought winters, and some of California's most important (and largest) reservoirs are nearing capacity in the northern part of the state as a result of heavy precipitation in March. These two factors will likely alleviate some of the most acute short-term drought impacts this summer. The enormous magnitude of California's long-term water deficits remain deeply entrenched from environmental and groundwater perspectives.
Sudden shift to active conditions across California–especially south!
The rainy season is apparently not over yet, however, as a series of fairly robust storm systems are expected to sweep across all of California in the coming days. As of this writing, an unusually positioned cut-off low well to the southwest of Los Angeles is slowly moving northeastward, spreading mid and high-level subtropical moisture across the state. On Friday, this moisture plume will continue to spread northward, and showers will likely develop across most of NorCal as well.
Southern California will actually see the most precipitation out of this upcoming event, and some spots could actually see rather heavy precipitation (locally 1-2 inches or more when all is said and done). Accumulations in Northern California will probably be lighter but still rather widespread.
Interestingly enough, the GFS and ECMWF both indicate that this active spell will continue through at least the next 10 days, with a couple of opportunities for colder systems to drop down from the Gulf of Alaska through the coming week.
Given the chilly airmasses associated with these potential upcoming systems and the high April sun angle, instability will probably be respectable by California standards and additional periods of shower/thunderstorm activity will be possible. All in all, it looks like a fairly active first half of April is shaping up across the state. Stay tuned!

California's drought condition and its impact on the California Almond crop is an important topic for our readers. Blue Diamond would like to thank Mr. Swain for allowing us to post excerpts of his articles on our website. To view the article in its entirety click here.