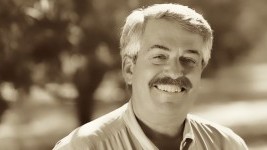 Northern Region –
Clear skies and a light breeze made for a wonderful Presidents Day in the Sacramento Valley as bloom continues to get a boost from Mother Nature. Early morning temperatures in the low 40's rapidly gave way to afternoon highs in the mid 70's. Light winds did nothing to prevent bees from foraging during the day. With ideal weather as the bloom reaches its peak in the northern region, observers noted that bees were out in full force, putting in a solid seven hours of work.
Bloom is nearly at its overall peak in the northern region. The early blooming Sonora is rapidly shedding its petals leaving the developing nutlet in its jacket. Nonpareil and its associated pollenizers should be at peak bloom today or tomorrow. More petals are shedding each day from the California type varieties. In the Chico area, the Carmel is nearly at peak bloom with significant petal fall being observed, while in the Williams area, the Carmel has only about one quarter of its flowers open and available for pollination. There is a similar variation in the Butte and Padre plantings as well, with plantings in the Chico area presenting approximately 50% of their flowers for pollination, while the Williams area has only 10% of their flower open and available to the bees. This significant variation is likely due to the heavier soil types present in the Williams area.
Conditions in recent days have been very supportive of the bloom and growers in the region have been very pleased with their prospects thus far.
Central Region –
The Northern San Joaquin Valley saw a continuance of early morning, patchy fog, which gave way to sunshine and warm temperatures as the day progressed. Temperatures again rose rapidly from early lows in the mid 40's to afternoon highs around 70 accompanied with a light breeze making for a beautiful day. Once again, the bees were given plenty of working hours to pollinate the orchards. Observers reported 7-8 hours of excellent bee activity.
The Sonora variety reached its peak over the past couple days, and has began rapidly shedding petals, leaving the nutlets to develop within their jackets. Nonpareil and the earlier California varieties are near or at their respective peak bloom. Later blooming varieties, such as the Carmel, are progressing quickly toward their peak, and are continuing to be timed well with the Nonpareil. Across the board, bloom timing and overlap has been ideal within different plantings. Butte and Padre varieties are beginning to come on strong, with measurable bloom in both varieties. Some advanced planting are presenting 50% to 60% open flowers. However, on average, Butte and Padre plantings are showing approximately 25% to 30% open flowers.
Many growers in the Northern San Joaquin Valley have begun applying fungicide treatments, while others are holding off as much as possible. In areas that have coupled consistently light winds with the lingering heat, and no fog, growers believe the climate is not conducive to fungal disease.
Southern Region –

Weather in the south San Joaquin Valley has finally stabilized into a very nice pattern to support the bloom. With fog being sporadic and light, temperatures have warmed up from the mid 40's in the morning to the upper 70's in the afternoon at a rapid pace. Early sunshine and light winds coaxed bees out of their hives early and had orchards humming with activity most of the day. As bloom continues to rapidly advance, bees were able to put in 8 to 9 hours of excellent work.
After a slow start bloom is finally kicking into high gear in the southern region. We should see peak levels of flowers available for pollination this week. Observers noted that the early blooming Sonora is at or near its peak bloom, with a few flowers beginning to shed their petals. Nonpareil is overlapping well with many Sonora plantings and is only a day or two behind. California type pollenizers continue to be in lock step with Nonpareil and all should peak within the next few days. Major bloom variation remains in the region as evidenced by the Butte and Padre bloom. Plantings have been observed anywhere from 70% open to 10% open depending on the area. Overlap has been ideal in some plantings and almost nonexistent in others with Butte 4 to 5 days ahead of Padre.
In spite of the fog, drier conditions have limited the growers need to apply more than one fungal treatment. With the rapid bloom progression growers are hoping that one treatment will have enough efficacy to get them through bloom.
Blue Diamond Growers
Bloom Report
Area:
North
Date:
2/16/15
Posted On:
2/17/15
Weather Data:
Temperature —>
High –>
74
Low–>
43
Wind Speed —>
Average –>
4-8 mph
Peak Gust –>
12
Rain —>
Inches –>
none
When –>
Clouds —>
Clear
Fog –>
Bee Activity –>
6 to 7 hours of excellent activity
BLOOM STAGES
 
 
 
 
 
 
 
 
 
Percentages
Dormant
Green Tip
Pink Bud
Popcorn
Bloom
Petal Fall
Jacket
Nutlet
Total
Sonora
22%
37%
41%
100%
Nonpareil
18%
58%
17%
7%
100%
California
3%
53%
37%
7%
100%
Carmel
15%
27%
56%
2%
100%
Peerless
35%
50%
15%
100%
Monterey
6%
67%
20%
7%
100%
Butte
2%
25%
38%
34%
1%
100%
Padre
10%
25%
36%
29%
100%
Area:
Central
Date:
2/16/15
Posted On:
2/17/15
Weather Data:
Temperature —>
High –>
73
Low –>
43
Wind Speed —>
Average –>
0-5 mph
Peak Gust –>
Rain —>
Inches –>
none
When –>
Clouds —>
Clear
Fog –>
light and patchy
Bee Activity –>
7 to 8 very good hours
BLOOM STAGES
 
 
 
 
 
 
 
 
 
Percentages
Dormant
Green Tip
Pink Bud
Popcorn
Bloom
Petal Fall
Jacket
Nutlet
Total
Sonora
1%
68%
27%
4%
100%
Nonpareil
3%
17%
74%
5%
1%
100%
California
1%
10%
81%
7%
1%
100%
Carmel
21%
34%
45%
100%
Monterey
2%
20%
74%
4%
100%
Butte
4%
45%
36%
15%
100%
Padre
11%
63%
20%
6%
100%
Area:
South
Date:
2/16/15
Posted On:
2/17/15
Weather Data:
Temperature —>
High –>
Low –>
Wind Speed —>
Average –>
Peak Gust –>
Rain —>
Inches –>
When –>
Clouds —>
Fog –>
Bee Activity –>
BLOOM STAGES
 
 
 
 
 
 
 
 
 
Percentages
Dormant
Green Tip
Pink Bud
Popcorn
Bloom
Petal Fall
Jacket
Nutlet
Total
Sonora
1%
10%
86%
3%
100%
Nonpareil
9%
20%
71%
100%
California
6%
13%
80%
1%
100%
Carmel
5%
19%
27%
49%
100%
Monterey
1%
15%
16%
68%
100%
Butte
4%
48%
28%
20%
100%
Padre
3%
50%
33%
10%
4%
100%