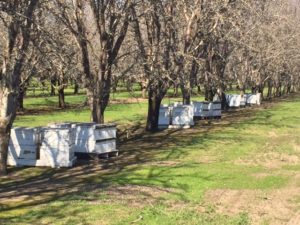 This report covers the conditions and activities observed from February 3, 2020 to February 11, 2020. We anticipate posting numbers starting Friday February 14, 2020. Bloom numbers will be posted regularly every Monday, Wednesday, and Friday throughout bloom. Written updates will be posted regularly on Wednesdays throughout bloom and will have a more regionalized focus. Digital bloom reports will be posted regularly Fridays throughout bloom. Additional updates will be posted as needed.
Growers are eagerly anticipating bloom. As Durham area grower Robert Kidd stated, "The bud set looks very good and crop potential is promising." Robert, like the rest of us, is just waiting to see if the weather cooperates. A few older Sonora blocks and a couple of Neplus blocks have begun to bloom but overall it is looking like by the end of the week we should see more open flowers. There are a few flowers beginning to open in the Nonpareil and Peerless orchards with pink buds present in most other varieties. Valentine's Day has been used as a reference date for when bloom begins in the north for quite some time and it is looking like that will be the correct timing for this year.
Over the past few weeks some growers have taken advantage of the dry weather to catch up on some needed work in the orchard. Several have gone in and pruned, mummy shaken, and a few have irrigated. Most bee hives have been placed in their respective orchards but there are still some being delivered.
Cold, gusty winds up to 40 mph began last weekend and lasted thorough early Monday morning. The warmer weather over the last few days has created some movement, though it is predicted to cool back down into the low 60s into the next week. With this weather the bees are ready to find some flowers and activity in and around the hives has been plentiful, though few flowers were open for pollination.
By Christine Ivory
Photos By: Timothy Sanchez and John Nock (Butte County Grower)
Northern Conditions and Bloom Status
Central Conditions and Bloom Status
Southern Conditions and Bloom Status