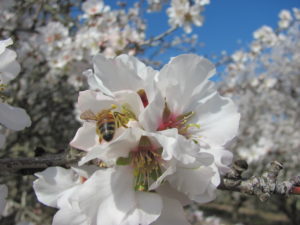 Petal fall is accelerating in both the Northern and Southern San Joaquin Valley as bloom comes off its peak in most varieties. Nonpareil, Monterey, and California type pollenizers in the central and southern districts are shedding their petals with assistance from the wind. Carmel is rapidly approaching peak numbers of open flowers and should achieve that in the next few days. The late blooming Padre moved significantly on Thursday and now has just under half of its flowers open for pollination. Its primary pollenizers Butte is now only one or two days ahead of Padre in both areas.
In the Sacramento Valley bloom remains a few days behind and bee activity, before Thursday, has been sporadic. "With nonpareils being close to 80% and so few pollination hours so far, I am not very optimistic on the potential of this crop. Today was our first good day in weeks," said Mike Doherty, member-grower in the Arbuckle area, "We will just have to wait and see but one positive thing is that overall at this time there is no disease pressure."
As Nonpareil and its California type pollenizers approach peak number of open flowers, bee activity has lagged behind the central and southern regions. More intense storms with lots of rain, cooler temperatures, and higher winds have been the main culprit. Compared to southern region, which has had six days in a row of five hours or better, the north has only had two days of five hours or more the whole year. Fortunately, as Doherty points out, cooler temperatures help keep disease pressure low, giving what bee activity that has occurred the best chance to pollinate the orchard. Cooler weather also tends to keep flowers viable for longer. Roughly 20% of the almond acres in California reside in the northern region.
Daytime highs ranging from the mid to upper 60s, and calm winds spurred bee activity in the central and southern regions on both Wednesday and Thursday. Both districts saw five hours of good activity on Wednesday, while on Thursday, the southern districts had one of their best days of the year with seven hours of very good activity. The central district managed another five good hours on Thursday. As mentioned by Doherty, after another overcast day on Wednesday that brought very little pollination activity, bees were out in force for five hours of good activity on Thursday.
Northern Conditions and Bloom Status
Wind:
7 mph with peak gust of 12 mph
Bee Activity:
5 hours of good activity
Current weather at the National Weather Service
| Variety | Dormant | Green Tip | Pink Bud | Popcorn | Bloom | Petal Fall | Jacket | Out Of Jacket |
| --- | --- | --- | --- | --- | --- | --- | --- | --- |
| Sonora | % | % | % | 2% | 49% | 34% | 15% | % |
| Nonpareil | % | % | 3% | 24% | 65% | 8% | % | % |
| California | % | % | 4% | 30% | 58% | 8% | % | % |
| Carmel | % | % | 10% | 40% | 46% | 4% | % | % |
| Peerless | % | % | % | % | 30% | 50% | 20% | % |
| Monterey | % | % | 10% | 35% | 49% | 6% | % | % |
| Butte | % | 6% | 42% | 35% | 17% | % | % | % |
| Padre | % | 19% | 58% | 18% | 5% | % | % | % |
Central Conditions and Bloom Status
Wind:
4 mph with peak gusts of 7 mph
Sky Conditions:
High, Thin clouds
Bee Activity:
5 hrs of good activity
Current weather at the National Weather Service
| Variety | Dormant | Green Tip | Pink Bud | Popcorn | Bloom | Petal Fall | Jacket | Out Of Jacket |
| --- | --- | --- | --- | --- | --- | --- | --- | --- |
| Sonora | % | % | % | % | 37% | 46% | 17% | % |
| Nonpareil | % | % | % | 3% | 62% | 30% | 5% | % |
| California | % | % | % | 8% | 64% | 26% | 2% | % |
| Carmel | % | % | 2% | 15% | 71% | 12% | % | % |
| Monterey | % | % | 2% | 12% | 63% | 23% | % | % |
| Butte | % | % | 5% | 21% | 67% | 7% | % | % |
| Padre | % | 3% | 24% | 36% | 35% | 2% | % | % |
Southern Conditions and Bloom Status
Wind:
5 mph with peak gust of 15 mph
Sky Conditions:
Patchy clouds
Bee Activity:
7 hours of very good activity
Current weather at the National Weather Service
| Variety | Dormant | Green Tip | Pink Bud | Popcorn | Bloom | Petal Fall | Jacket | Out Of Jacket |
| --- | --- | --- | --- | --- | --- | --- | --- | --- |
| Sonora | % | % | % | % | 33% | 55% | 12% | % |
| Nonpareil | % | % | % | 2% | 63% | 24% | 11% | % |
| California | % | % | % | 5% | 62% | 23% | 10% | % |
| Carmel | % | % | 11% | 21% | 68% | % | % | % |
| Monterey | % | % | % | 6% | 67% | 18% | 9% | % |
| Butte | % | % | 31% | 19% | 50% | % | % | % |
| Padre | % | 6% | 46% | 26% | 22% | % | % | % |