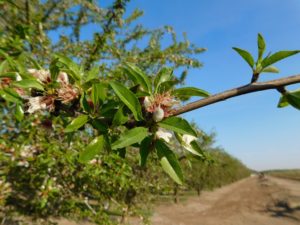 This report covers the conditions and activities observed from February 27, 2020 to March 4, 2020. Bloom numbers will be posted regularly every Monday, Wednesday, and Friday throughout bloom. Written updates will be posted regularly on Wednesdays throughout bloom and will have a more regionalized focus. Digital bloom reports will be posted regularly Fridays throughout bloom. Additional updates will be posted as needed.
Petals are rapidly falling from trees as bloom approaches termination. There are no viable flowers left in any variety except for Butte and Padre in all regions of the state. Higher winds from Saturday to Monday have accelerated petal fall throughout the state.
"Bloom came on fast with good overlap and hung on for many days allowing for a really good bee flight. Then bloom finished with warm and windy conditions to blow the petals off."  – Matt Visser, Visser Family Farms
Nutlets are beginning to enlarge and push against their protective jacket. Trees are beginning to shoot leafy tissue as the orchard color goes from whitish brown to green. Growers are beginning to irrigate their orchards as trees begin to draw water from the soil. Fertilizer applications have begun, both through foliar and ground application.
Conditions remained dry, with no rain recorded for the entire month of February in many parts of the growing region. As mentioned, high wind conditions with gusts often reaching 15 miles per hour helped to blow remaining flower petals from trees. High temperatures last week reached into the mid-80's reported in the Sacramento and San Joaquin Valleys, followed by a cooling trend over the weekend with highs only in the mid-60's. Low temperatures have been seasonal for this time of year with no significant concerns for frost.
By Brian Noeller
Photos by Ernie Reichmuth and Ben Goudie
Northern Conditions and Bloom Status
Bee Activity:
5.5 Hours of marginal activity
Current weather at the National Weather Service
| Variety | Dormant | Green Tip | Pink Bud | Popcorn | Bloom | Petal Fall | Jacket | Out of Jacket |
| --- | --- | --- | --- | --- | --- | --- | --- | --- |
| Sonora | % | % | % | % | % | 48% | 52% | % |
| Nonpareil | % | % | % | % | % | 65% | 35% | % |
| California | % | % | % | % | 1% | 68% | 31% | % |
| Carmel | % | % | % | % | % | 75% | 25% | % |
| Peerless | % | % | % | % | % | 75% | 25% | % |
| Monterey | % | % | % | % | % | 76% | 24% | % |
| Butte | % | % | % | % | 13% | 77% | 10% | % |
| Padre | % | % | % | % | 16% | 81% | 3% | % |
Central Conditions and Bloom Status
Bee Activity:
7 Hours of good activity
Current weather at the National Weather Service
| Variety | Dormant | Green Tip | Pink Bud | Popcorn | Bloom | Petal Fall | Jacket | Out of Jacket |
| --- | --- | --- | --- | --- | --- | --- | --- | --- |
| Sonora | % | % | % | % | % | 1% | 98% | 1% |
| Nonpareil | % | % | % | % | % | 6% | 94% | % |
| California | % | % | % | % | % | 10% | 90% | % |
| Carmel | % | % | % | % | % | 18% | 82% | % |
| Monterey | % | % | % | % | % | 10% | 90% | % |
| Butte | % | % | % | % | 6% | 22% | 72% | % |
| Padre | % | % | % | % | 11% | 31% | 58% | % |
Southern Conditions and Bloom Status
Bee Activity:
8 Hours of excellent activity
Current weather at the National Weather Service
| Variety | Dormant | Green Tip | Pink Bud | Popcorn | Bloom | Petal Fall | Jacket | Out of Jacket |
| --- | --- | --- | --- | --- | --- | --- | --- | --- |
| Sonora | % | % | % | % | % | 28% | 72% | 1% |
| Nonpareil | % | % | % | % | 2% | 50% | 48% | % |
| California | % | % | % | % | % | 51% | 49% | % |
| Carmel | % | % | % | % | 1% | 50% | 49% | % |
| Monterey | % | % | % | % | % | 57% | 43% | % |
| Butte | % | % | % | % | 38% | 57% | 5% | % |
| Padre | % | % | % | % | 55% | 42% | 3% | % |