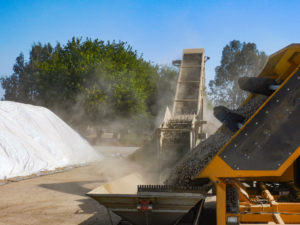 This report covers conditions and observations made between Monday, September 2 and Sunday, September 29, 2019. The next scheduled report will be posted on Monday, October 28, 2019. In the event of any significant occurrences prior to that date, this site will be updated as soon as possible.
The summer to fall transition brought widely ranging temperatures, a bit of rain and several days of blustery winds to California's Central Valley. Daily maximum temperatures peaked at or near the century mark in all areas of the San Joaquin Valley in the period's opening days and again at mid-month, with temperatures in the Sacramento Valley running just a few degrees cooler. Conditions took a rather dramatic turn to cooler levels on September 16th, when the first of two weather systems passed over the valley. Readings in the mid and upper 70's were common during the first system's passage, with as much as a 0.25 inch of rain reported throughout the Sacramento Valley and as far south as Merced County. Brisk winds, with speeds approaching 30 mph and temperatures approaching 100 degrees preceded the arrival of the second colder weather system, which dropped daytime highs into the low 70's in the period's final days. This drier, but unstable system managed to spawn a tornado and as much as four inches of hail north of Woodland in Yolo County during the final days of the period.
Harvest operations were running at a "full throttle pace" throughout the Central Valley as growers and their employees worked to bring their crops in from the orchards. Shaking, sweeping and "pick-up" operations could be observed in all areas of the valley as growers moved quickly from orchard to orchard and variety to variety. Field operations were briefly delayed in the Sacramento and northern San Joaquin Valley by the mid-month rain. Moisture levels in product harvested from areas that received the most rainfall has required drying upon arrival. However, moisture levels have been manageable, and no significant issues have materialized. Huller/sheller managers in the impacted areas quickly moved to previously stockpiled product while waiting for product in the orchards to dry.
Harvest of the Nonpareil and Independence variety has been completed and growers have moved on to the various pollinizer varieties. Observers have reported that quite a few growers producing Nonpareil with Carmel, Aldrich, Price or Sonora as pollinizers have completed their harvest and have moved on to post-harvest tasks. Meanwhile, those with Butte, Padre, Monterey or Fritz plantings remain fully engaged in the harvest. Many are anticipating completing their harvest within the next three weeks, barring any unforeseen problems with weather.
Huller/sheller operators have reported being significantly impacted by the flow of Nonpareil and Independence varieties coming in from the orchards. These varieties harvest at virtually the same time. Coupled with the significant acreage planted to Independence in the past few years, this has increased the flow of in-hull almonds from the orchards during the first weeks of the harvest. Observers are reporting that huller/sheller managers have sent correspondingly more product to stockpiles this year in order to accommodate the increased flow. Several managers have had to rent additional open lands for stockpile storage, while others have increased the amount of product their growers are storing in on-farm stockpiles.
The yield trend noted in our previous report has continued throughout the month. Best yields in the Nonpareil has been reported in the southern San Joaquin Valley, with yields in the northern San Joaquin and Sacramento Valleys running below levels realized in the 2018 crop. Yields trends of the various pollinizer varieties remain to be determined.
Reject levels have been running at generally lower levels than in recent years. Growers and their Pest Control Advisors have placed sharp focus on managing Navel Orange Worm, NOW, following several years of increasing damage levels. Two significant trends have emerged. First, damage levels in the southern San Joaquin Valley are running at much better values than in recent years. Growers in the southern San Joaquin have endured increasing losses due to NOW and have worked aggressively to manage this serious insect pest. Secondly, growers in the Sacramento Valley have endured elevated damage levels this year. The Sacramento Valley has historically avoided serious problems with NOW. That has changed in recent years, and growers are realizing that they are going to have to increase their efforts to counter impacts from NOW.
As growers complete their harvest, they quickly move on to post-harvest tasks. Critical post-harvest irrigations are immediately completed. Then, application of soil amendments and fertilizers follow in short order. Those with older, lower producing orchards have also begin removing these plantings, even as growers who have previously completed pre-plant preparations are planting new orchards using potted trees.
By: Mel Machado
Photos by: Mel Machado, Ernie Reichmuth, KC Stone, Tim Sanchez, and Matt Willson
Northern Conditions and Bloom Status
Central Conditions and Bloom Status
Southern Conditions and Bloom Status