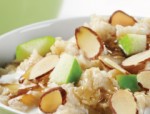 Bill Morecraft
General Manager
Global Ingredients
Blue Diamond Almonds
Overview –

The February Almond Board Position report released on Wednesday showed 2014 crop receipts winding down as expected. February receipts of 16 million lbs. pushed the crop just over 1.85 million lbs. Remaining receipts will slow to a trickle, leaving the 2014 crop total materially unchanged.
ILWU & PMA labor negotiations at West Coast ports continued to dramatically impact export capacity through late February. With a tentative agreement reached between the two parties on February 20, the long process of restoring volumes through West Coast ports began slowly at the end of the month. In spite of the logistical bottlenecks, almond shipments for the month were 139.9 million lbs, rebounding by more than 20% from January. The YTD shipments lag from last year dropped from 14% to 13%. March and April exports will increase significantly over January & February volumes, with total shipments in March exceeding last year's shipments.
Markets in the U.S, India, China and Middle East have all been active buyers in early 2015. U.S. shipments remain close to last year. Current month shipments to Asia and the Middle East reflect some recovery from the early deficits against prior year. EU shipments will partially recover in the latter months, but remain well below last year's shipments that were impacted by a weak Spanish crop.
YTD commitments are 15% up from prior year, with the 2014 supply slightly over 70% sold. For current crop, forward coverage is still widely required for the late spring and summer months. For the balance of the year, almond shipments from California will be relatively flat to last year, resulting in carry-out inventories of ~ 425 million lbs.
Bloom weather was unseasonably warm and generally dry. The bloom itself was shorter than last year. Post bloom weather has also been warmer and drier than normal. The outlook for 2015 almond supply is focused on the uncertain impact of the prolonged drought and another year of increasingly limited water availability.
Market Perspective –
After rising through January and early February, almond prices plateaued in late February. The next movement will come in response to March shipments, and subsequently as nut set and tree health can be physically observed later in spring. California almond supplies will gradually tighten over the summer. It appears that it will be at least one more year before there is significant growth in total supply, in spite of a projected larger 2014 crop carryout.
Click here to view the entire detailed Position Report from the Almond Board of California site: