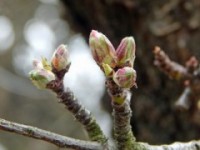 From the Desk of
Bill Morecraft
Senior Vice President
Overview –
Yesterday's ABC Position report, reported January almond receipts of 22 million lbs. vs. 33 million lbs. last January. The 2015 crop is settling in at near, but unlikely over 1.9 billion lbs.
January shipments of 129.2 million lbs exceeded the shipments of the prior year by 14 million lbs. While the gap has narrowed, YTD shipments trail last year by 81.5 million lbs and 9%. January 2015 export shipments were hampered by the West Coast port issues, so a rebound was expected. The increase of 22 million export lbs was driven mostly by European shipments doubling over last year.
With only 125 containers shipped to India in January vs. 220 shipped last year, the disposition of defaulted containers should accelerate. As the short-term issues are resolved, Indian demand can respond quickly to current market levels.  The price point reached in January resulted in healthy coverage by EU customers, with shipments for the month up 100%.  China is also trending positively, up 35% for the month and now down only 9% year to date.  China will begin to replenish stocks shortly, as soon as Chinese New Year is passed. Middle East markets evidence healthy demand, as Ramadan coverage is beginning – spurred by price levels not seen since 2012.  Good forward demand exists in a number of export markets due to lack of coverage and relief from peak prices.
The North American market continues to reflect the lagging impact of higher retail shelf prices for snack almonds. The impact of high prices on snack almond demand in the U.S. will change more slowly, as retail prices gradually begin to reflect recent market levels.
While commitments lag farther behind last year, California industry shipments are only 81 million lb behind last year, or roughly 2 ½ weeks behind the pace of last year.
Bloom is getting underway. The forecast is for warmer than average temperatures for the next ten days, with limited precipitation. Follow Blue Diamond's latest update on the California almond bloom by clicking here. at www.bdingredients.com/category/almond-bloom-harvest-reports/.
Click here to view the entire detailed Position Report from the Almond Board of California site: