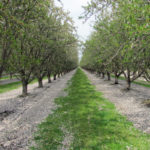 Bill Morecraft
Senior Vice President

Overview –
On Wednesday, the Almond Board of California announced April shipments of 167.5 million pounds, up nearly 11% from last year.  Export shipments increased 26%, reflecting strong demand at the lower prices booked in recent months. Shipments to the U.S. market were down 13% from prior year, as retail prices continue to reflect higher prices that prevailed last summer and into Q4 of 2015.
Earlier last week, the NASS Subjective Estimate for the 2016 California almond crop was released at 2.0 billion pounds.  NASS based its estimate on 900,000 bearing acres.  Both these numbers were on the lower side of expectations for the industry.
Commitments in April jumped by 177 million lbs, bringing the uncommitted inventory down sharply. Projections of carryout inventory on July 31st have dropped from more than 500 million lbs, to a range of 440-480 million lbs.
Market prices, trending up before last week, were boosted by shipments, commitments and the NASS estimate. With 2015 crop contract issues receding, export markets have been shipping briskly in 2016. Export shipments in May will also be robust. China, India and the Middle East show good long-term signs of recovery.  European market shipments are up 6% compared to the same time last year, with a fair amount of this increase on the shoulders of Spain with a 23% increase over year to date last year.  Early estimates for the Spanish crop at 50,000 metric tons are down 11%. The North American market will rebound later, beginning in summer and increasing through Q4, as more attractive consumer pricing slowly works its way onto retail shelves.
Market Perspective –
Over the last twelve months, almond pricing has peaked, declined and is beginning to show a moderate rebound as prices settle into more familiar historical territory. Demand is growing again, as the agricultural and pricing impact of the four–year drought have receded for this year.
Export market demand has responded quickly, and will be followed later this year by a return to growth in North America. Current crop availability is limited in several categories and appears that it will remain that way over the summer. With demand increasing, prices are firming as they reflect a better balance with supply.