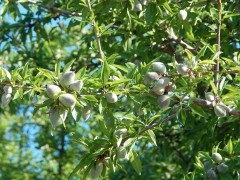 The following excerpts on the drought situation in California come from a recent article by Daniel Swain from WeatherWest.com posted May 3, 2016
Recent weather overview
While much of coastal California has seen quiescent weather in recent days, interior parts of the state have actually been experiencing rather active conditions. Widespread thunderstorms over mountain areas–including the Sierra Nevada, Coast Ranges, and the mountains of Southern California–have brought a remarkably wide variety of conditions over the past 10 days. Somewhat surprisingly, some of these storms have been able to sustain themselves after moving westward into the Central Valley–resulting in a number of very intense lowland thunderstorms that produced quite a bit of large hail, localized flooding, and even a couple of tornados.
Unusually prolonged period of active convective weather to develop Wednesday-Saturday virtually statewide 
Thunderstorms are a  rather unusual event in coastal California, so it's not surprising that we don't often see even a chance of thunderstorms in the forecast in major urban areas for 4 consecutive days. Yet that's exactly what appears to be in the cards for the rest of the week, courtesy of a slow-moving cut-off low currently approaching California from the west.
While the low itself is relatively moisture-starved, it will bring with it a very unstable airmass (by California standards, anyway)–bringing a relatively prolonged period of active convective weather through the weekend to nearly the entire state.
For all of this activity, average precipitation totals are expected to be on the lighter side (less than half an inch in most spots), but given the convective nature of the precipitation some places could see quite a bit more than that. Also, the Sierra Nevada will be favored in this setup (including the eastern slopes), and there will likely be at least a couple of inches of much-needed late season rain (and high elevation snow) there through the weekend. As mentioned earlier, this pattern brings the rather unusual possibility of thunderstorms in the vicinity of San Francisco, Sacramento, Los Angeles, and San Diego on several consecutive days. At a minimum, this will make for some great cloud watching; but there is also some potential for more significant weather (locally including hail and intense downpours). While it's too hard to pinpoint specific regions of interest at this point, I would not be surprised to see at least a few severe thunderstorms (especially in the Central Valley on Thursday/Friday).
As always, I'll have more frequent micro-updates on California weather and climate over on the Weather West Twitter page!
California's drought condition and its impact on the California Almond crop is an important topic for our readers. Blue Diamond would like to thank Mr. Swain for allowing us to post excerpts of his articles on our website. To view the article in its entirety click here.
© 2016 WEATHER WEST