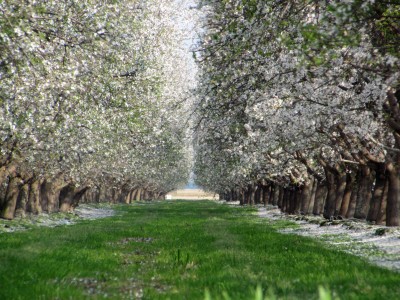 The following excerpts on the drought situation in California come from a recent article by Daniel Swain from WeatherWest.com posted March 3, 2016
Rapid transition from record warmth & dryness to very wet pattern-
February was an extremely warm month (once again!) across the entire state of California, with a seemingly endless list of temperature records being broken on a daily basis. February was also quite a dry month across the state, with essentially the only precipitation event of any note occurring around the middle of the month. Sierra Nevada snowpack–which had been hovering slightly above average through the end of January–started to fall behind by mid-month, and March 1st snow survey showed statewide snowpack slightly above 80% of average for the date. This number is decidedly far better than during recent winters, but that's really only a testament to the abysmal snowpack accumulations during the reign of the Ridiculously Resilient Ridge. A rather abrupt change in the prevailing weather pattern is now at California's doorstep, however. The persistent ridging of the past month or so is rapidly being displaced by a series of powerful storm systems, driven by a remarkable enhancement and consolidation of the Pacific jet stream.
One-two punch; intense rain, gusty winds, thunderstorms possible –
Rain has already begun across the northernmost portion of California, and will continue more or less continuously through Monday. Precipitation will gradually spread further south on Friday and intensify on Saturday as a very strong cold front approaches the California coast. A robust atmospheric river (arguably of the Pineapple Express variety, given its subtropical origins near Hawaii) will be in place in advance of the front itself, providing plenty of moisture for the impressive larger-scale dynamics to act upon.
The nose of a strong jet streak will move inland over Central California before sagging southward over time, which is a favorable position for providing added lift as this storm system sweeps across the state from northwest to southeast. The very moist atmosphere combined with a fairly impressive frontal structure will likely lead to a period of very heavy rainfall across much of California.
Rainfall totals through Monday across Northern California will be in the 2-4 inch range in most places (including San Francisco and Sacramento), with perhaps more than double that (5-8+ inches) in the coastal hills and the northern Sierra Nevada foothills. Most of Southern California will probably see rainfall more on the order of 1-2 inches, with double that in the coastal mountains.
Models have backed off on next week's precipitation, but still bears watching – 
While a very impressive atmospheric river is still expected to develop across the eastern Pacific next week and eventually make it to California, it is not presently expected to be nearly as persistent as had been simulated a few days ago.
That said, though, the GFS and ECMWF both still agree that a strong storm will approach California later next week, dragging this atmospheric river onshore and producing at least modestly heavy precipitation.
A look (even further) ahead –
In the longer run, it seems likely that a fairly active weather pattern will continue across California for much of March. It's hard to say at this point whether precipitation this month might approach the remarkable late-season levels of the "Miracle March" in 1991, but it does at least appear likely that California's snowpack will recover toward or even above average levels in the coming weeks. It's less clear whether Southern California will be able to make up the seasonal precipitation deficit that has accumulated this year despite the near record-strength El Nino event in the tropical Pacific. Still, it
appears increasingly likely that March will at least be able to make a dent–even though it's quite clear that California's multi-year drought will persist through the summer.
California's drought condition and its impact on the California Almond crop is an important topic for our readers. Blue Diamond would like to thank Mr. Swain for allowing us to post excerpts of his articles on our website. To view the article in its entirety click here.
© 2015 WEATHER WEST