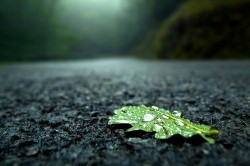 The following excerpts on the drought situation in California come from a recent article by Daniel Swain from WeatherWest.com posted March 9, 2016
 Recent storminess in the context of California's ongoing severe drought
After an unnervingly quiescent and remarkably warm February, March roared into California like a lion over the past weekend. A quick succession of powerful storms brought a very wide array of inclement weather conditions to the Golden State.
Double-digit rainfall totals occurred in orographically-favored spots in the northern part of the state, while several feet of new snow fell at the highest elevations of the Sierra Nevada. As creeks and rivers rose in response to this much-needed rainfall, so too did inflows to some of California's largest reservoirs in the Sierra Nevada foothills. Folsom Lake, in fact, now has above average water levels to date–and the floodgates on Folsom Dam have been opened to accommodate the additional expected heavy precipitation over the coming week.
Even if precipitation were to stop falling today, all of California's major reservoirs are in much better shape than they have been in years (though I'll be the first to admit that's a decidedly low bar). Sierra Nevada snowpack, while still below average to date, is quite substantial–and will continue to provide substantial inflow into reservoirs though the spring and early summer months (unlike during recent years). Though it will not solve the immediate water concerns of those living in certain water districts in Southern California that are dependent on local precipitation, or the long-term groundwater overdraft that continues in the Central Valley.  What happens over the next month or so will dictate just how much drought relief occurs before the long, dry summer ahead.
Slow-moving atmospheric river may bring very heavy precipitation and flooding in NorCal
In the short term, though, there's certainly a lot more water headed toward California. Another atmospheric river (or plume of concentrated atmospheric water vapor propelled by strong low-level winds) is taking aim at Northern California as I type, and will sag very slowly southward down the coast through late Friday. This particular atmospheric river exhibits an unbroken corridor of enhanced water vapor that can be traced all the way back to the Hawaiian Islands–which qualifies this event as a modest "Pineapple Express."
The main concern over the next few days is that this very moist plume will stall out over some portion of Northern California on Friday, potentially leading to very heavy precipitation accumulations. Additional heavy precipitation will likely lead to flooding of at least some degree–and this could start to extend to larger rivers in addition to smaller streams if this precipitation band stalls as much as is currently forecast.
A period of heavy rainfall and gusty winds will occur throughout most of California around the time of cold frontal passage, and a few thunderstorms are once again possible.
Yet another (slightly weaker) system will move into California by Sunday, bringing another round of widespread precipitation. Precipitation amounts (and snow levels) will be lower, though any additional rainfall by that point could cause at least minor flooding problems.
Prospects good for active pattern during the remainder of March
California will see a multi-day break in the precipitation by early next week (and, if current forecasts hold, it should be a needed break from the heavy precipitation!). There are some signs, though, that wet weather will likely return once again by the middle of the month. It's worth noting that decaying El Niño events can lead to very active late winter and spring periods in California, and hopefully that's where this year is headed.
Stay tuned!
California's drought condition and its impact on the California Almond crop is an important topic for our readers. Blue Diamond would like to thank Mr. Swain for allowing us to post excerpts of his articles on our website. To view the article in its entirety click here.
© 2015 WEATHER WEST