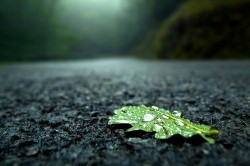 by Daniel Swain on February 7, 2017 •
The following excerpts on the weather in California come from Daniel Swain from WeatherWest.com posted February 7, 2017.  
Remarkable California wet spell continues
The next storm bearing down on the state bears close watching. An intense atmospheric river brought widespread heavy rain and strong winds to much of NorCal early this morning, causing widespread flooding of streams, smaller rivers, and coastal areas (especially near the Bay Area). Observed flooding and other storm impacts were more severe than initially anticipated. Soils throughout the region have now reached total saturation (and, in some cases, "supersaturation"). Thus, virtually all rainfall at this point is generating rapid runoff and flowing into bodies of water that are already experiencing residually high flows.
After one of the wettest starts to the rainy season on record, California's water capture and conveyance infrastructure is now under considerable strain.
Reinvigorated "Pineapple Express" on Thursday; more flooding concerns
Another strong surface cyclone off the coast of California will position itself in a manner that will act to "resurrect" the existing plume of subtropical moisture transport initiated by the storm earlier today. Thus, a reinvigorated warm and very moist atmospheric river will move across northern California on Thursday–bringing another threat of very heavy rainfall (especially in the mountains and foothills).
Strong multi-model agreement on brief break, then return to (very?) wet pattern in 7-10 days
By the weekend, all of California will experience a much-needed respite from the deluge. In fact, a 5-7 day dry spell is looking pretty likely at the moment. But by mid-February, there is already remarkably strong multi-model agreement that a wet (and perhaps very wet) pattern will resume across California, and this time the entire state from San Diego to Eureka will probably get soaked. Yet another impressive eastward extension of the Pacific jet stream will probably bring the storm track right to our doorstep in that timeframe, and at this very early juncture it looks like there could be the potential for strong wind events in addition to heavy rainfall events. That would most likely raise the specter of significant flood concerns once again.
Many of you are probably wondering: why, exactly, is California experiencing such an extraordinarily (and unexpectedly) wet winter? Well, that's a question for another blog post–partly due to time constraints, but also because the answer is not immediately obvious.
As we move into the second week of February we are waiting for the start of the 2017 California Almond crop bloom. California's weather conditions, and its impact on the almond crop, is an important topic for our readers. Blue Diamond would like to thank Mr. Swain for allowing us to post excerpts of his articles on our website. To view the article in its entirety click here.