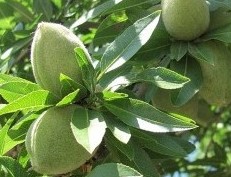 Bill Morecraft
General Manager
Blue Diamond Almonds
Global Ingredients Division
Today NASS reported the Subjective Estimate for the 2015 almond crop at 1.85 billion lbs.  The 1.95 billion lb Subjective Estimate of last year was 4% higher than the actual 2014 crop.  On average, the Subjective Estimate over the last six years has been within 5% of actual crop receipts. For the past three years, the Subjective Estimate has been at or higher than actual receipts.
Bearing acres were estimated at 870,000 for 2014. The preliminary bearing acreage for 2015 is estimated at 890,000, an increase of 2.3%.
The impact of the continuing drought conditions and another year of early season above average temperatures are again expected to impact the crop in terms of total quantity, sizing and quality. With three months remaining before harvest, the crop harvested may be different than what we see on the trees today.
Spring buying activity has been robust. April shipments reported on May 12 are expected to exceed last year by up to 10%. We project carry-out inventory of ~350 million pounds in July.  Strong demand continues across global markets as we move into the summer months.
The NASS Objective Estimate is scheduled to be released on Wednesday July 1, 2015.
See Blue Diamond's Monthly Almond Market Updates at by clicking here: …