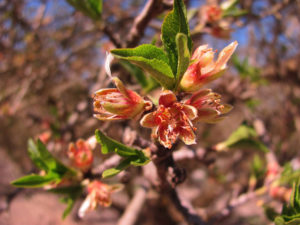 Warm temperatures and favorable conditions throughout the state resulted in excellent pollination activity over the past two days. Observers reported that bee activity over the past few days was as good or better than any other period this season. While there is minimal bloom left in most of the Nonpareil and California type varieties, bees were found working the remaining flowers. Throughout the state, observers reported 5 to 6 good hours of bee activity on Monday and 6 to 7 hours of very good activity on Tuesday.
Developing nutlets have begun to size with the recent warmer weather and small amounts of Sonora and Peerless continue to break through their jackets. While petals can be seen on trees in many orchards, the amount of viable bloom in Nonpareil and California type varieties is minimal. The later blooming Butte and Padre varieties have approximately a quarter of their bloom remaining in the northern region, and half of their bloom remaining in the central and southern regions. With a measurable amount of remaining bloom, excellent bee activity was observed in these orchards.
Daytime temperatures in all regions reached the low 60s on Monday, followed by mid 60s to 70 degrees on Tuesday. While staying above critically cold levels, overnight temperatures continue to drop into the low 30s and have prompted some growers to continue with irrigation as frost protection measures. This continued irrigation and moisture from last week's storms has kept orchard floors saturated and forced some growers to make foliar applications by air to prevent bloom diseases.
By Jereme Fromm
Photos by Dennis Meinberg, Ernie Reichmuth, Christine Ivory and Matt Willson
Northern Conditions and Bloom Status
Bee Activity:
6 hours of good activity
Current weather at the National Weather Service
| Variety | Dormant | Green Tip | Pink Bud | Popcorn | Bloom | Petal Fall | Jacket | Out of Jacket |
| --- | --- | --- | --- | --- | --- | --- | --- | --- |
| Sonora | % | % | % | % | 1% | 35% | 58% | 6% |
| Nonpareil | % | % | % | % | 5% | 35% | 60% | % |
| California | % | % | % | % | 4% | 31% | 65% | % |
| Carmel | % | % | % | % | 5% | 40% | 55% | % |
| Peerless | % | % | % | % | % | 1% | 96% | 3% |
| Monterey | % | % | % | % | 8% | 37% | 55% | % |
| Butte | % | % | % | % | 26% | 39% | 35% | % |
| Padre | % | % | % | % | 27% | 63% | 10% | % |
Central Conditions and Bloom Status
Bee Activity:
6 to 7 hours of very good activity
Current weather at the National Weather Service
| Variety | Dormant | Green Tip | Pink Bud | Popcorn | Bloom | Petal Fall | Jacket | Out of Jacket |
| --- | --- | --- | --- | --- | --- | --- | --- | --- |
| Sonora | % | % | % | % | % | 10% | 90% | % |
| Nonpareil | % | % | % | % | 8% | 29% | 63% | % |
| California | % | % | % | % | 8% | 30% | 62% | % |
| Carmel | % | % | % | % | 37% | 31% | 32% | % |
| Monterey | % | % | % | % | 14% | 33% | 53% | % |
| Butte | % | % | % | % | 55% | 27% | 18% | % |
| Padre | % | % | % | % | 65% | 25% | 10% | % |
Southern Conditions and Bloom Status
Bee Activity:
6 to 7 hours of very good activity
Current weather at the National Weather Service
| Variety | Dormant | Green Tip | Pink Bud | Popcorn | Bloom | Petal Fall | Jacket | Out of Jacket |
| --- | --- | --- | --- | --- | --- | --- | --- | --- |
| Sonora | % | % | % | % | % | 42% | 58% | % |
| Nonpareil | % | % | % | % | 6% | 52% | 42% | % |
| California | % | % | % | % | 5% | 44% | 51% | % |
| Carmel | % | % | % | % | 10% | 46% | 44% | % |
| Monterey | % | % | % | % | 15% | 44% | 41% | % |
| Butte | % | % | % | % | 50% | 32% | 18% | % |
| Padre | % | % | % | 6% | 60% | 19% | 15% | % |