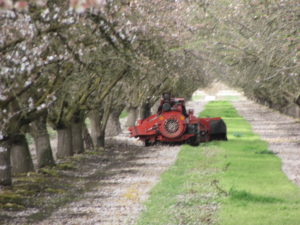 Bloom is rapidly approaching its end throughout the state. In the northern and southern San Joaquin Valley, Butte and Padre are the only varieties left with over 10% of their flowers still viable. All other reported varieties have no viable flowers left, or very few. Butte are ranging from one quarter to one third of viable flowers remaining while Padre has just under half of its flowers left for pollination. Meanwhile, the Sacramento Valley to the north remains three to four days behind its southern counterparts.
"Early varieties have dropped 50 percent of their blossoms and are starting to push green leaves. Bee hours were low on early varieties due to the extreme February weather," said Live Oak Blue Diamond Grower Tim Taylor. "Late varieties, Butte and Padre are in full bloom now and we are optimistic for some upcoming dry warm weather for increased bee hours."
Taylor's view reflects the average of the northern district. Butte and Padre have achieved peak number of open flowers in last couple of days, giving bees an opportunity to pollinate them if the weather cooperates. All the other varieties are rapidly shedding their petals and have well under 50% of intact flowers remaining. His concerns over bee hours in his area are valid though it is too early to tell how crop potential will be affected.
Cooler weather with both periods of sun and rain were prevalent both Wednesday and Thursday. Wednesday saw early rain give way to sunshine and cool winds. Thursday saw early sun give way to afternoon rains. Bee activity varied widely throughout the state and within each district, though overall, few places averaged over 3.5 hours of fair activity. There was not much work for bees outside of Butte and Padre.
By Brian Noeller
Photos by: Jereme Fromm, Christine Ivory, Dennis Meinberg, Ernie Reichmuth
Northern Conditions and Bloom Status
Wind:
7 mph with peak gusts of 17
Sky Conditions:
Patchy Clouds
Bee Activity:
3 hours of fair activity
Current weather at the National Weather Service
| Variety | Dormant | Green Tip | Pink Bud | Popcorn | Bloom | Petal Fall | Jacket | Out Of Jacket |
| --- | --- | --- | --- | --- | --- | --- | --- | --- |
| Sonora | % | % | % | % | 7% | 23% | 70% | % |
| Nonpareil | % | % | % | % | 20% | 50% | 30% | % |
| California | % | % | % | % | 22% | 28% | 50% | % |
| Carmel | % | % | % | % | 38% | 47% | 15% | % |
| Peerless | % | % | % | % | % | % | 100% | % |
| Monterey | % | % | % | % | 28% | 47% | 25% | % |
| Butte | % | % | % | % | 68% | 32% | % | % |
| Padre | % | % | % | 2% | 78% | 20% | % | % |
Central Conditions and Bloom Status
Wind:
3 mph with peak gusts of 8mph
Current weather at the National Weather Service
| Variety | Dormant | Green Tip | Pink Bud | Popcorn | Bloom | Petal Fall | Jacket | Out Of Jacket |
| --- | --- | --- | --- | --- | --- | --- | --- | --- |
| Sonora | % | % | % | % | % | 5% | 94% | 1% |
| Nonpareil | % | % | % | % | 3% | 25% | 72% | % |
| California | % | % | % | % | 5% | 24% | 71% | % |
| Carmel | % | % | % | % | 10% | 35% | 55% | % |
| Monterey | % | % | % | % | 3% | 23% | 74% | % |
| Butte | % | % | % | % | 35% | 33% | 32% | % |
| Padre | % | % | % | % | 44% | 35% | 21% | % |
Southern Conditions and Bloom Status
Wind:
7 mph with peak gusts of 18 mph
Bee Activity:
0 to 6 hours of fair activity depending on area
Current weather at the National Weather Service
| Variety | Dormant | Green Tip | Pink Bud | Popcorn | Bloom | Petal Fall | Jacket | Out Of Jacket |
| --- | --- | --- | --- | --- | --- | --- | --- | --- |
| Sonora | % | % | % | % | % | 2% | 89% | 9% |
| Nonpareil | % | % | % | % | % | 7% | 91% | 2% |
| California | % | % | % | % | % | 10% | 88% | 2% |
| Carmel | % | % | % | % | % | 10% | 90% | % |
| Monterey | % | % | % | % | 2% | 27% | 69% | 2% |
| Butte | % | % | % | % | 23% | 55% | 22% | % |
| Padre | % | % | % | 2% | 47% | 35% | 15% | % |