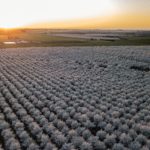 This report covers the conditions and activities observed from February 12, 2020 to February 18, 2020. Bloom numbers will be posted regularly every Monday, Wednesday, and Friday throughout bloom. Written updates will be posted regularly on Wednesdays throughout bloom and will have a more regional focus. Digital bloom reports will be posted regularly Fridays throughout bloom. Additional updates will be posted as needed.
Warm and breezy weather conditions have accelerated the progression of bloom. With minimal humidity in the air, the bees have had to move quickly to collect the pollen from the flowers before the pollen becomes too dry. Peak Bloom was reached in Nonpareil and most pollinizer varieties toward the end of last week in the Northern and Central Regions. Only a couple of days behind, the peak is estimated to occur in the south by mid-week.
"We could not have asked for better weather for this bloom." Said Bobby Deol, Atwater area Blue Diamond Grower, "We'll just have to wait and see if the bees had time to get the job done."
Warm, dry days and cool nights across the state this past week has led to excellent overlap between almond varieties, allowing for the best possible chance of pollination. Later blooming varieties such as Butte and Padre have advanced quickly and will be at peak bloom in just a couple of days. Bees have been actively working the bloom seven to eight hours a day on average. With the lack of late winter rains there has been little need for fungicide applications, however, moisture in the soil is low and growers have been irrigating to meet the trees' water requirements.
By Justin Elam
Photos by: Mel Machado and Tim Sanchez
Northern Conditions and Bloom Status
Sky Conditions:
Scattered Afternoon Clouds
Bee Activity:
8 Hours of Excellent Activity
Current weather at the National Weather Service
| Variety | Dormant | Green Tip | Pink Bud | Popcorn | Bloom | Petal Fall | Jacket | Out Of Jacket |
| --- | --- | --- | --- | --- | --- | --- | --- | --- |
| Sonora | % | % | % | % | 61% | 39% | % | % |
| Nonpareil | % | % | % | % | 65% | 35% | % | % |
| California | % | % | % | % | 75% | 25% | % | % |
| Carmel | % | % | % | 5% | 79% | 16% | % | % |
| Peerless | % | % | % | % | 67% | 33% | % | % |
| Monterey | % | % | % | 5% | 80% | 15% | % | % |
| Butte | % | % | 6% | 10% | 82% | 2% | % | % |
| Padre | % | % | 24% | 12% | 64% | % | % | % |
Central Conditions and Bloom Status
Bee Activity:
8 Hours of Excellent Activity
Current weather at the National Weather Service
| Variety | Dormant | Green Tip | Pink Bud | Popcorn | Bloom | Petal Fall | Jacket | Out Of Jacket |
| --- | --- | --- | --- | --- | --- | --- | --- | --- |
| Sonora | % | % | % | % | 39% | 59% | 2% | % |
| Nonpareil | % | % | % | % | 63% | 37% | % | % |
| California | % | % | % | % | 69% | 31% | % | % |
| Carmel | % | % | % | 3% | 82% | 15% | % | % |
| Monterey | % | % | % | % | 74% | 26% | % | % |
| Butte | % | % | % | 2% | 93% | 5% | % | % |
| Padre | % | % | 1% | 6% | 92% | 1% | % | % |
Southern Conditions and Bloom Status
Bee Activity:
8 Hours of Excellent Activity
Current weather at the National Weather Service
| Variety | Dormant | Green Tip | Pink Bud | Popcorn | Bloom | Petal Fall | Jacket | Out Of Jacket |
| --- | --- | --- | --- | --- | --- | --- | --- | --- |
| Sonora | % | % | % | % | 68% | 29% | 3% | % |
| Nonpareil | % | % | % | 3% | 86% | 11% | % | % |
| California | % | % | % | 1% | 85% | 14% | % | % |
| Carmel | % | % | 1% | 22% | 75% | 2% | % | % |
| Monterey | % | % | % | 12% | 81% | 7% | % | % |
| Butte | % | % | 20% | 8% | 72% | % | % | % |
| Padre | % | % | 36% | 6% | 58% | % | % | % |