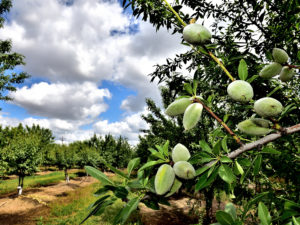 This report covers conditions and observations made between Monday, April 29 and Sunday, June 2, 2019. The next scheduled report will be posted on Monday, July 1, 2019. In the event of any significant occurrences prior to that date, this site will be updated as soon as possible.
California's almond growers experienced a wide range of weather during May, with clear skies and warming temperatures in the period's opening days yielding to more winter-like conditions for the majority of the month. Daily high temperatures varied between the lower 70's and mid-80's for the first two weeks of the period. However, temperatures dropped significantly at mid-month, down into the low to mid 60's, approximately 20 degrees below seasonal norms as rain and wind returned to the Central Valley. The winter-like conditions remained in place until the closing days of the period, when skies finally cleared and daily highs returned back to the mid-80's. Morning low temperatures followed the pattern of the daily highs, with readings ranging between the upper 40's to lower 60's.
The most notable factor of the period's weather was the untimely return of rainfall to the Central Valley. A cut-off low spiraling in from the southeast brought the first rainfall of the month to the Kern County area on May 10th, with growers there reporting over 1.5 inches of rain. Following that, a series of weather systems approaching from the Pacific delivered heavy rain and occasional hail as thunderstorms roamed over much of the Central Valley for nearly two weeks. Rainfall totals for the period ranged from 0.5 to 2.5 inches in the southern San Joaquin Valley to 1.5 to 4.25 inches in the Sacramento Valley. There were sporadic reports of hail in many Central Valley locations. However, we have not received any reports of significant damage or losses.
Observers are reporting that the unseasonably cool temperatures have slowed the pace of crop development in all areas. However, the first fully solid Nonpareil kernel was observed in western Stanislaus County on May 21, just three days later than in 2018 and two days earlier than 2017. While the wet conditions have decreased orchard's water requirements, reducing the need for irrigations, they have also increased the susceptibility to Rust and Scab, foliar fungal diseases that can cause severe defoliation later in the summer. While temperatures have been "cool," they have been high enough to promote fungal growth. Higher humidity levels are also problematic, promoting heavy early morning dew and surprisingly, dense, patchy fog in Stanislaus and San Joaquin counties on the morning of Monday, May 20th.  Growers will begin treating to prevent the development of Rust and Scab as conditions dry out. These treatments are preventative in nature and must be applied prior to infection.
Between rain events, growers were monitoring their orchards for insects, fertilizing to support the developing crop, mowing weeds and irrigating as needed. Winds, blustery on some days with speeds in excess of 20 mph have caused a few problems as trees laden with crop and made heavier by wet foliage were blown over or broken apart. Thus, growers and their employees have been busy cutting up downed trees, then removing brush and stumps as they prepare the sites for replanting. There have been a few reports of Leaf-Footed Plant Bugs in the southern San Joaquin Valley that required treatment. While observers were reporting that web-spinning mite populations had been rising, the rainfall during the period has literally washed them from the trees, severely impacting their development and negating the need for treatment. Some growers had been planning early season ant bait applications intended to knock down developing populations. However,  the rains have largely delayed treatments until drier conditions prevail.
Over the coming weeks, growers will continue to monitor their plantings for signs of disease, control vegetation within and around the orchards and prepare for the approaching hull split.
By Mel Machado
Photos by Mel Machado, KC Stone, Matt Willson and Christine Ivory
Northern Conditions and Bloom Status
Central Conditions and Bloom Status
Southern Conditions and Bloom Status