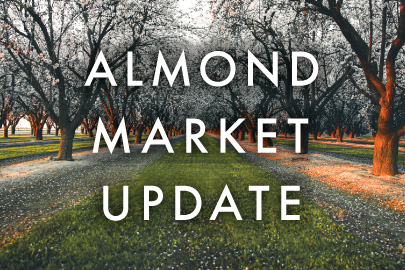 Laura Gerhard
Vice President
OVERVIEW

California almond industry shipments were in line with market expectations, shipping 177 million lbs for the month of January, a 9% decline compared to last year's 194 million pounds. Export shipments beared the full brunt of the shortfall as vessel and container logistics continued to complicate the industry's ability to execute. Exports for the month were down 24.9 million lbs, 18% lower than last year. Domestic demand remained consistent at 66.5 million lbs, up over 4% to last month and exceeding last January by 13%. Shipments through the first six months are now 1.239 billion lbs, 16% behind last year.
SHIPMENTS
Continued shipping delays have positioned all export markets behind last year's record setting pace. Many key markets came into the crop year with healthy inventories. Consequently, buyers continue to exercise patience as they manage their product pipelines. In an effort to mitigate future shipping delays, supply confidence will become a greater concern and encourage buyers to replenish stock particularly for upcoming holidays.
India: Shipments are down 20% versus last year. With current shipping delays, transit times to India are twice the normal length. Since Diwali is scheduled in October, buyers may have to ship in late spring or early summer from this crop year's supply to ensure product arrives in time for the festival.
China: Shipments are down 27% versus last year. Vessel delays and longer transit times limited opportunities as product could not be guaranteed to reach market in time for the Chinese New Year. Buyers in China are examining market prices as inventories need to be replenished after new year sales. Australia will fill most of the demand through spring and summer with their duty-free advantage in China versus California products.
Europe: Shipments are down 26% versus last year. The EU is currently working through inventories it shipped and purchased last spring and summer and buyers are trying to gauge demand going forward as the region struggles with the impact of covid on consumption. Market expectations are that European buyers will engage the market in late spring to ensure stock is available for the fall and winter.
Middle East: Shipment are down 19% versus last year. Logistical issues continue to drive caution throughout the market. There are concerns over vessel timing for Ramadan and potential missed demand with late shipment arrivals.
Domestic: US shipments were again a bright spot and remained strong with year-to-date shipments coming in slightly positive to last year. Shipments for January totaled 66 million lbs compared to 59 million lbs last year, an impressive 13% increase for the month.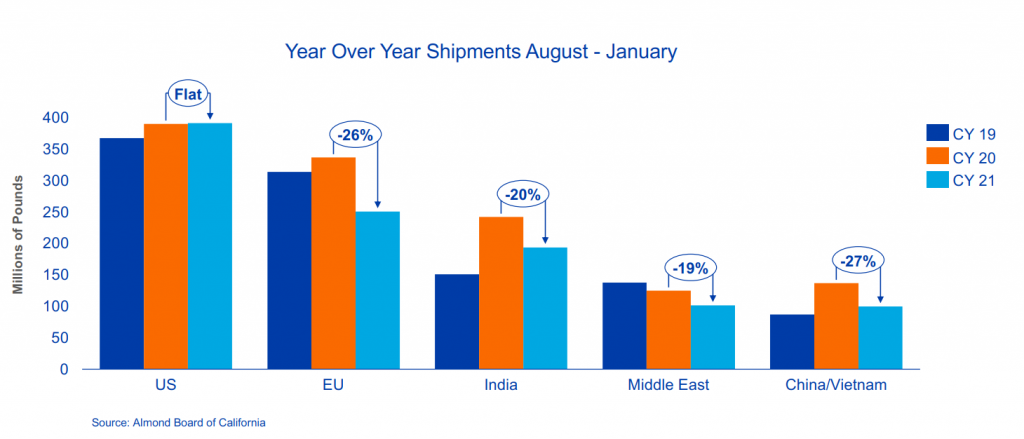 COMMITMENTS
Total commitments to date stand at 841 million lbs and are down 9.73% from last January. New sales were steady at 207 million lbs, however slightly less than the market anticipated. Sold and shipped as a percent of total supply is at 61% vs 69% last year. Uncommitted inventory is at 1.299 billion lbs and up 29.3% compared to same time last year. With six months remaining in the crop year the focus going forward will be on managing the carry-out which is evolving to significantly higher levels than last year's record. The industry will be watching shipments as well as its ability to execute on commitments as logistical challenges persist. Prices will continue to be pressured as a result.
CROP
Receipts totaled 2.83 billion pounds. The California bloom is upon us and with near-ideal weather conditions the market will watch closely as the outlook remains warm and dry over the next 3 to 4 weeks.
Market Perspective
The release of the January Position Report marks the halfway point of the 2021 crop year. Shipments for the month were in line with industry expectations. The domestic market remains consistent while export struggles persist as vessel logistics continue to complicate execution. Demand shows good potential as it continues to respond to price adjustments. For the moment, many markets appear to have sufficient inventories with any shortage by end users adequately covered by in-market supply. Buyers are resolved to being patient and selective with their purchases balancing price expectations with maintaining product pipelines.
Going forward the focus will be on managing the carryout for this crop year. The industry will be watching shipments as well as its ability to execute on commitments. Price is likely to continue to see some pressure as a result. Vessel logistics will continue to complicate pipelines for the foreseeable future. It's prudent for buyers to consider covering their needs earlier than anticipated to avoid supply disruptions.
The almond bloom is upon us under mostly ideal weather conditions given that California has been dry with increasing daytime temperatures. This will be the industry's first chance to analyze the potential of the 2022 crop. All eyes are now turned to the weather.
To view Blue Diamond's Market Updates and Bloom Reports Online Click Here
To view the entire detailed Position Report from the Almond Board of California Click Here