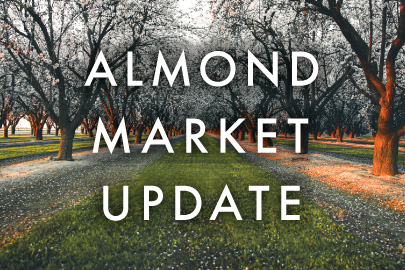 Laura Gerhard
Vice President
OVERVIEW
California almond industry shipments were in line with market expectations, shipping 199 million lbs for the month of February, a 15% decline compared to last year's record 234 million pounds. On a positive note, it marked a three-month high on the back of much needed, higher exports shipments. Exports for the month were 146 million lbs, down 11% versus last year and 21% year-to-date. Domestic shipments, having been steady and consistent have declined significantly for the first time this crop year. At 53 million lbs domestic demand was down 20% to last month and 24% to last February. Shipments total 1.438 billion lbs through the first half of the crop year, which is 274 million lbs or 16% behind last year's pace.
SHIPMENTS
India: Shipments are down 18% year-to-date but within expectations with last month holding flat. An earlier Diwali coupled with extended transit times will complicate product pipelines. With local inventories becoming tighter, buyers would do well to consider their needs for late summer and early fall. Given these market dynamics prices should stabilize on the back of this demand.
China: Shipments remain down 27% year-to-date or 40 million lbs compared to last year. This was the result of product not arriving in time for the Chinese New Year celebrations. Australia with their duty-free advantage to China will look to fill the nearby demand through spring and summer. Recent rains in Australia bring questions regarding the quality of the crop.
Europe: Shipments are up 2.5% compared to last February and up a noticeable 79% versus the prior month. This boost is a welcome sign as the industry executed well on commitments for the month. There are, however, additional concerns due to the uncertainty cast on the EU market. The Russian invasion of Ukraine created added inflationary pressures. A weaker Euro versus the dollar increased the purchase price of almonds. Additionally, the freeze event dampened market activity. European buyers are expected to purchase through spring to ensure supply for the fall and winter.
Middle East: Middle Eastern shipments are down 28% for the year, led by strong year-over-year drops in Dubai and North Africa. Morocco was a bright spot last season at 135% versus the prior year. North Africa is currently down over 50% from last season. The rest of the Middle East is down 23% versus the prior year. This is another market that took excess stock in the back half of the 2020 crop season. Vessel logistics continue to be the most challenging to this region. Timely shipment for Ramadan is crucial as Ramadan begins April 2.
Domestic: US shipments are down 24% for the month, a significant drop in a market that has been steady and consistent. Both weather and logistics caused challenges for the domestic market with multiple storms creating delays in shipments and supply chains being impacted by limited carrier availability and high shipping costs.
COMMITMENTS
Total commitments to date stand at 857 million lbs and are down 3% from last February. New sales were a bright spot trending in the right direction at 215 million lbs, up 14% from last February. Sold and shipped as a percent of total supply is at 67% vs 75% last year. Uncommitted inventory is at 1.147 billion lbs which is up 31% compared to the same time last year. The carryout will most certainly turn out higher than last crop year. There are five shipping months remaining in the crop year. Pricing stability and execution will be the determining factors in how much more volume will be carried over.
CROP
Receipts totaled 2.892 billion pounds. The almond bloom is wrapping up but not without concern. The California Central Valley received overnight freezing temperatures for approximately four days. While the coldest temperatures were over the four-day period, threatening temperatures were experienced for nearly two weeks. With a more advanced bloom this year, trees were more susceptible to frost damage in certain areas of the valley. While, for some individual growers the freeze event is potentially devastating, it is difficult to translate the degree of damage into a level of total crop loss. The impact of this weather event will be revealed over the course of the coming weeks.
Market Perspective
With the release of the February Position Report, California continues to ship within industry expectations. Export volume saw a much-needed push while domestic shipments were off their pace for the first time this crop year. New sales remain encouraging and indicate consistent demand at the lower price levels currently seen in the market today. A freeze event in California's central valley helped stabilize prices towards the latter half of the month. Buyers remain patient and seem content to wait and see how price reacts before making their next purchasing decisions.
The carryout continues to be the main focal point for the industry. Challenges with vessels persist, frustrating buyers and sellers alike. The Ukraine conflict could exacerbate the issue with rising fuel prices adding another layer of uncertainty to the industry's ability to execute in a timely manner. It's prudent for buyers to consider covering their needs earlier than anticipated to avoid supply disruptions.
The California almond bloom has concluded. It will take weeks to determine if any significant damage was done to the crop. The market will keep a close eye on this going forward.
To view Blue Diamond's Market Updates and Bloom Reports Online Click Here
To view the entire detailed Position Report from the Almond Board of California Click Here