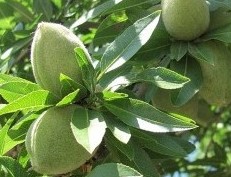 Bill Morecraft
General Manager
Global Ingredients
Blue Diamond Almonds
Overview –
2014 almond crop supplies continue to tighten against remaining late demand. The April ABC Position Report shows a 2014 crop supply of 2.158 billion lbs, off 7% from the prior year. April shipments of 151 million lbs are 10% higher than last year and represent a record high for the time period. April new commitments of 168 million lbs are 63 million lbs higher than last April.
Shipments Year-To-Date through April are down 7%, as California suppliers pushed pricing to dampen demand. However, shipments and reported commitments combined total 1.766 billion, down only 3.5% from the prior year. Late season demand is squeezing inventories and pressuring prices upward again. Ending inventories project to be slightly below 350 million pounds. Any increase in shipments over last year will reduce the ending inventory.
Domestic shipments remain steady and are now slightly above last year YTD, based on April shipments 15% higher than the prior year. In export markets, China/Hong Kong shipments are up 235% since January. Though there are logistical issues emerging in this market, resolution is expected to keep demand steady into new crop. India's demand for direct shipments of California crop continues to grow, 26% higher than last year and approaching 2012 crop volumes.  Western European shipments will close strong as Spanish almond supplies are depleted.   YTD shipments for Western Europe are down 14% due to the larger 2014 Spanish crop. The Middle East remains steady, with significant late season activity.
2014 / 15 California Almond Industry Shipment Summary

Region
 MTD – Versus Prior Year
 

YTD – Versus Prior Year

USA

15%

0%

Europe

3%

-19%

Middle East / Africa

-8%

-11%

Asia / Pacific

37%

-1%

 Total Shipments
10%
-7%
Market Perspective –
At the close of April, the 2014 California almond supply is 84% committed. Smaller Nonpareil and pollenizer CPOs are no longer available. Individual sellers have limited remaining supplies of specific varieties and counts. With the 2015 supply projected to be smaller the 2014 supply, new crop pricing is at parity with current crop. Given the tight transition from the 2014 to 2015 crop, availability for incremental coverage of pollenizers and manufactured products will be limited until mid-October.
 Global demand for almonds remains incredibly strong in the face of tight supplies and historically higher pricing. The window is closing on securing coverage, other than Nonpareil, through October.
The NASS Objective Estimate is due on Wednesday, July 1.
Click here to view the entire detailed Position Report from the Almond Board of California site: