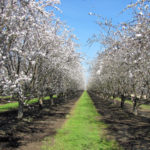 Bill Morecraft
General Manager
Global Ingredients
Blue Diamond Almonds
Overview
California almond industry shipments in May continue at a pace that exceeds 2014 crop supplies. The 2014 crop is 1.86 billion pounds and total supply is 5% lower than last year. Shipments of 139.6 million lbs in May bring YTD total shipments to 1.539 billion lbs. New commitments of 105 million lbs, bring month-end commitments to 332 million lbs, 17% above the prior year. Shipments and commitments through July will end no more than 3% off last year, against an available supply that has declined 7%. Ending inventory on July 31 projects to shrink below last year's 350 million lbs making the coming transition period extremely tight.
Domestic shipments remain equal to last year. In export markets, China/Hong Kong shipments have outperformed last year in each month since December and will finish this crop year with much better shipments than some predicted months ago. India is the fourth largest market for California almond exports, and very close to becoming third. With shipments from other origins factored in, India is the second largest almond consuming country in the world, behind only the U.S. Both U.S and Asian markets have shown no decline in shipments despite historically high prices. Western Europe will close the year between 10 and 13% off of last year, with most of the decline attributable to the rebounding Spanish crop. The strong demand, in the face of rising prices, illustrates the versatility of almond usage and global reach of almond demand.
   2014 / 15 California Almond Industry Shipment Summary

Region
MTD – Versus Prior Year
YTD – Versus Prior Year
USA
 -4%
0%
 Europe
-6%
-18%
 Middle East / Africa
 3%
 -10%
 Asia / Pacific
7%
 0%
 Total Shipments

-3%
-7%
The NASS Objective Estimate is due out on Wednesday, July 1. The outlook for the 2015 crop remains uncertain. Valley temperatures throughout May were slightly below normal. The 2015 crop benefited from the mild conditions. Kernels of all varieties are now completely solidified, or nearly so and have reached their maximum weight. Given the mild temperatures, growers were able to scale back irrigation's during the period, thus saving water while not impacting the developing nuts. This week, seasonal hot temperatures have kicked in with several readings above 100+ degree F.
Market Perspective –
Shipments and commitments against the 2014 California almond supply continues to grow. Roughly 13% remains uncommitted, with very little in smaller CPOs or pollenizers remaining available. Pricing will firm in the short-term. Longer term, prices will remain at or above current levels unless the 2015 crop exceeds expectations and late fall / winter precipitation begins to break the drought.
Reminder: The NASS Objective Estimate is due out on Wednesday, July 1.
Click here to view the entire detailed Position Report from the Almond Board of California site: