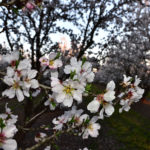 March 9, 2017
Bill Morecraft
Senior Vice President
Overview –
ABC #'s
Carry-Out outlook
Bloom
The February ABC Position Report issued today, provides data matching industry expectations. Receipts increased by 17.7 million, tracking to a 2.130-2.135 billion lb crop. February shipments of 152 million lbs represent a seasonally strong shipment number, but 2% lower than the same month a year ago. Based on the strong early shipment months, YTD shipments remain 28% and 277 million lbs above last year. New commitments of 143 million lbs in February keep industry backlog high at 482 million lbs, a leading indicator of consistent shipments over the upcoming months. The industry is 70% shipped and committed through February.
With shipments that should come close to equaling last year's strong finish, the 2016 crop ending inventory is projected to be ~400-430 million lbs.
Weather was very poor during the Nonpareil bloom, with heavy rainfall and significant winds in the early bloom. The Northern and Central parts of the state were most impacted. Bloom conditions improved later in the month, particularly for the late blooming Butte & Padre varieties. Overall, conditions were less than ideal with concern surrounding the Nonpareil variety. As Spring approaches and the nuts mature, the industry will begin to get a better idea for the 2017 crop outlook.
The NASS Subjective Estimate is scheduled for release on May 10, 2017. The Objective Estimate will be released July 6, 2017.
Market Perspective –
With 70% of the crop shipped or committed, almonds continue to trade in a relatively narrow band of prices. Early bloom conditions created upward price pressure, particularly on remaining 2016 Nonpareil crop. Pollenizers also saw upward pressure, but to a lesser degree than on Nonpareil.
As stated last month, there is growing tightness in Nonpareil supply, with the price gap to pollenizers growing in February. The overall 2016 ending inventory looks to be in the low 400 million lb range, appropriate for a 2 billion lb + annual demand.
The next significant price move will be driven by the insight gained on the 2017 supply as the next crop matures.
See Blue Diamond's Market Updates Online Click Here:
Click here to view the entire detailed Position Report from the Almond Board of California site:
Please visit the Crop Progress Report to monitor 2017 bloom progress on Blue Diamond Grower's website