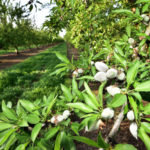 April 12, 2017
Bill Morecraft
Senior Vice President
Overview –
Shipments continue to trend upward for the California almond industry. The March ABC Position Report issued on Tuesday reflects a 10.5% increase in shipments for March compared to last year. The YTD increase for U.S. shipments moves up to 15.4%, with export shipments 30% above prior year. Receipts slowed to an additional 6 million lbs, indicating the crop may reach 2.135-2.140 billion.
New commitments of 135.6 million lbs make it likely that shipment momentum continues through this crop year. Commitments are 4% greater than last March when California reeled off three consecutive months of shipments near or above 170 million lbs each month. If April through July shipments repeat last year's volume, ending 2016 crop inventory will be very close to 400 million lbs.
As indicated in the graph, shipments for the 2016 crop year are likely to grow by ~300 million lbs over the prior year. This year's California almond supply is 75% shipped and committed, 5% ahead of last year. Consumption of the 2016 crop has benefited from the most moderate and stable pricing in five years. The price stability has results in renewed buyer confidence. Further, it has positioned almonds as the best value in tree nuts now and for the foreseeable future. The positive impact of these factors has already been seen in the rapid rebound in global consumption this year.
Market Perspective –
The global demand for almonds evidenced by increased shipments from California this year bodes well for the 2017 crop. With a less than optimal bloom, growth in the size of next year's crop is expected to be modest at best.
The NASS Subjective Estimate is scheduled for release on May 10. The Objective Estimate will be released July 6. These data points will help solidify the outlook on the 2017 crop.
One continued watch out will be the impact of tight supply on the Nonpareil variety. Current price differentials between nonpareil and other varieties of $.80-$.85 per lb are historically high. This larger difference is likely to continue into 2017 crop.
See Blue Diamond's Market Updates Online Click Here: …
 Click here to view the entire detailed Position Report from the Almond Board of California site: