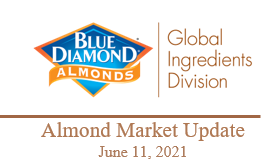 Bill Morecraft
Senior Vice President
California almond industry shipments in May hit the higher end of expectations, reaching 219.4 million lbs, up 65.5 million lbs and 43% from last year. YTD shipments are 2,448 million lbs. With two months remaining in the fiscal year, shipments have already exceeded last year's record and will exceed 2.8 billion lbs by year-end.
The increases for May shipments were spread across the globe. The U.S. was up 12.7 million lbs, China up 8 million lbs, India nearly flat to prior year up by 1 million lbs, Europe up 15.5 million lbs, and the Middle East/Africa up 22.7 million lbs.
U.S. shipments continue at close to 70 million lbs per month since March, averaging 67 million lbs per month for the year. In May and June, the U.S. is lapping COVID impacted shipments from last year and will post significant year over year gains in both months. Full year growth will end above 4%, in spite of the negative impact of COVID on modern U.S. retail for most of the 2020 crop year. There is potential for improved growth next year as grocery and convenience store foot traffic that drives snack nut sales is gradually beginning to pick up after being highly restricted since March 2019.
Year to date, the biggest shipment growth has come in export markets. Inshell shipments of 434 million lbs make up nearly 18% of total shipments and are up 47% from last year. While inshell shipments are slowing down due to supply constraints, India remains the leader in growth increasing 112.8 million lbs or 54%, growing the market to 322.3 million lbs. Shelled almond shipments are up 282 million lbs and 20% globally, creating the base for the overall growth of 21.3%.
Europe has increased by 97.6 million lbs, a steadier but impressive 18%. More than any other market, the increase in Europe reflects some response to this year's difficult ocean freight congestion, with Europeans expanding the amount of inventory they prefer to hold in Europe to minimize production disruptions.
China has been the third largest contributor, up 80.5 million lbs or 80% and continues its rebounding growth from last year. The Middle East/Africa has surged late to 28% growth, up 67.1 million lbs YTD. With the low production of large count Nonpareil kernels favored in these markets, it took longer to accept high NPX 20/22 pricing and adapt to other sizes. Lastly, U.S. YTD growth is at 24 million lbs and will end closer to 35-36 million lbs up by year end.
2020 crop commitments remain 150 million lbs ahead of last year, the increase entirely in export markets. May new commitments in a normal seasonal pattern slowed to 103 million lbs. More bullish were the YTD new crop commitments of 231.5 million lbs. The larger crops of 2020 and 2021 are creating a new behavior of larger early commitments than in prior years (see graph). Combining both new and old crop commitments, the California industry is holding 13% more commitments than last year at this time.
With the nearly uninterrupted year of significant shipment gains, ending inventory projects well below 700 million lbs, perhaps into the lower 600's.
Market Perspective
What a difference a year makes…
Last year the 3.0 billion lbs Subjective Estimate yielded a 3.4 billion lbs supply against prior year shipments less than 2.4 billion lbs, while facing uncertain times as COVID ebbed and flowed around world economies. Lower almond prices reflected the many uncertainties with such a large bump in supply.
The incredible growth so far this year (431 million lbs and 21%) has created a much different outlook as the California industry contemplates a second consecutive 3 billion lbs crop (Subjective Estimate at 3.2 billion). Shipments this year will exceed 2.8 billion lbs.
2021 crop supply is likely to be up modestly from last year's 3.5 billion lbs, but demand has proven sufficient to absorb the crop in spite of COVID restrictions and a difficult ocean freight environment.
The pricing outlook for 2021 is firmer. Nonpareil and Independence Inshell demand exceed supply and are driving early pricing $.50 per lb meat weight higher than last year's initial levels. Mid-size Nonpareil kernels are also reflecting higher levels than last September. Nonpareil in general is showing spreads from pollenizers similar to 3 and 4 years ago due to robust global demand.
Considering the specter of a crop inhibited from full its potential by current water shortages and a possible third year of drought, the California industry is reluctant to be over committed into Q1 of next calendar year. Buyers and sellers have a few more weeks to assess before plunging in (NASS Objective Estimate is July 12), but expect pricing to be firmer than entering last summer's selling season.
For Blue Diamond's Market Updates and Bloom Reports Online Click Here:
 To view the entire detailed Position Report from the Almond Board of California Click here: