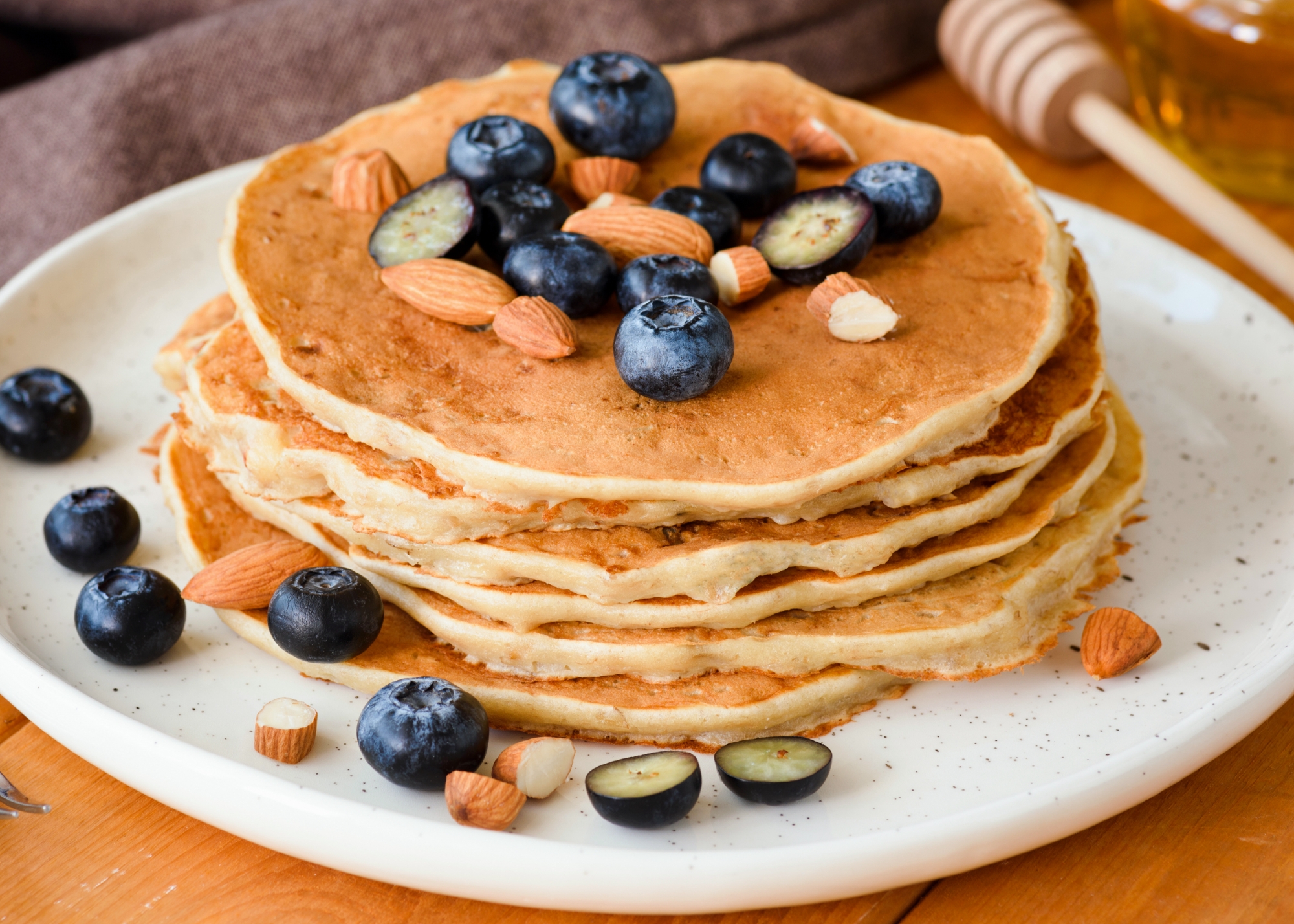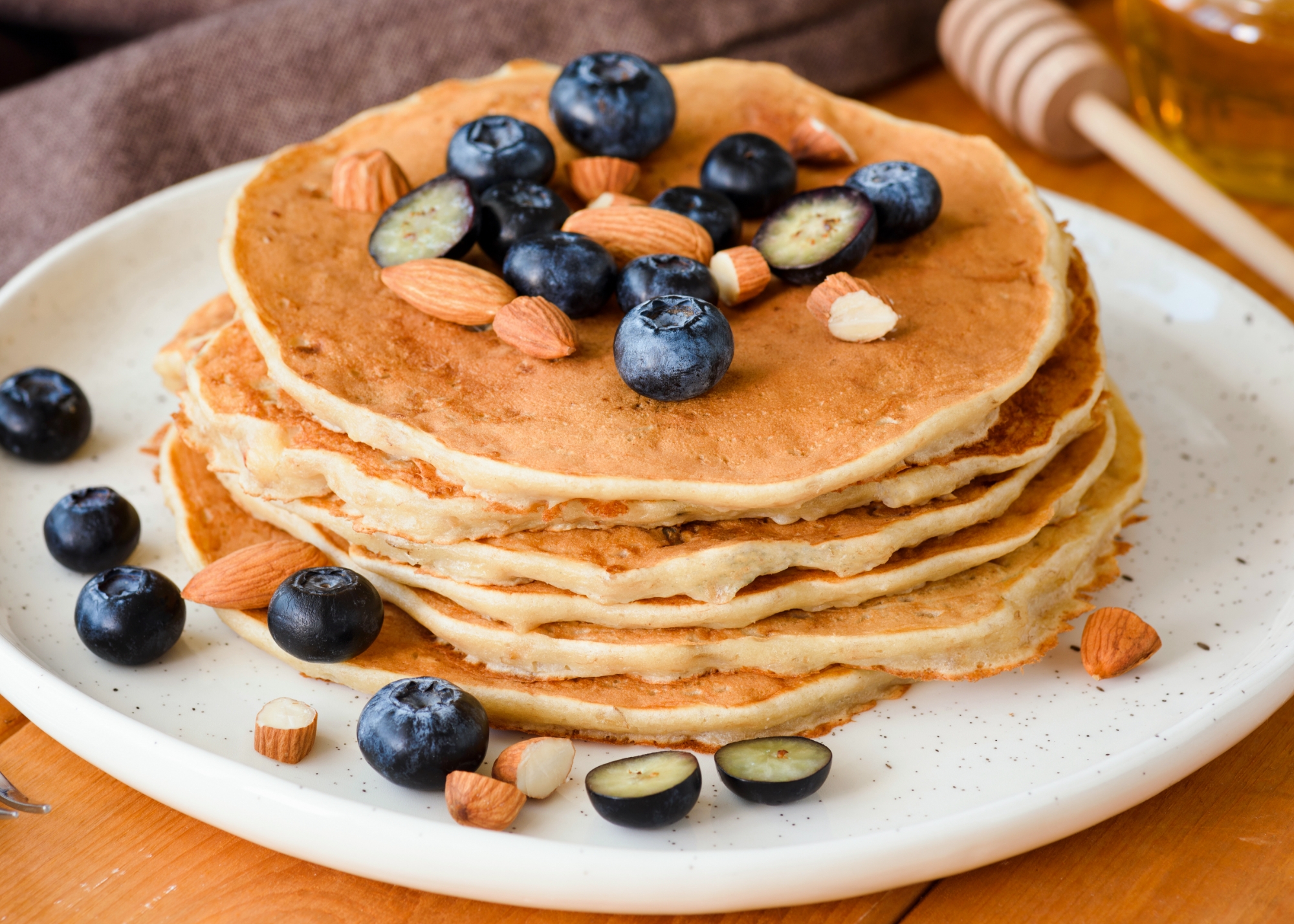 Tips for Formulating "Better-For-Us" Products
Find out how almond ingredients fit the need for "better-for-us" formulations, including:
Gluten-Free Almond Pancakes
Almond Protein Bar
Almond Flour Cake
Sustainability and personal health are top of mind for many consumers when deciding which food or beverage products to purchase. Kerry1 research discovered that 73% of North American consumers now associate health and nutrition with sustainability, highlighting the influence and impact that the "better-for-us" trend has on consumers.
While consumers appear to enjoy the idea of "better-for-us" goods, the foods and beverages available still need to be delicious to be chosen. Fortunately, Mintel2 found that 52% of Americans prefer the taste of vegan protein, and opt for plant-based protein alternatives.
Gluten-Free Almond Pancakes: Gluten-free pancakes made with finely ground almond flour are rich in vitamin E and other antioxidants, with a slightly nutty and sweet taste. Almond flour is a great swap for traditional flour for health-conscious consumers, but still provides the same smooth mouthfeel of wheat flour. In addition to extra vitamins and minerals, almond flour delivers a dose of healthy fats and protein for a satiating breakfast. Top this gluten-free formulation off with a dollop of hearty almond butter for additional health benefits, sweetness and creamy texture.
Almond Protein Bar: Perfect for a midday snack or pre-work out energy boost, almond protein bars are a must-have for today's health-conscious consumer. Sprinkle in almond slivers and drizzle creamy almond butter for a protein-packed energy bar that provides a quick fuel boost. When used within a bar application, almond butter packs an additional punch of healthy fats, plenty of protein with a smooth mouthfeel. The almond inclusions bring the satisfying crunch-factor that consumers long for, with the health benefits that will make their heart happy-literally.
Almond Flour Cake: As an alternative to a cake baked with traditional wheat flour, this almond flour-based "better-for-us" treat has a perfectly soft inside, with a light, fluffy texture that consumers want, and expect, from their dessert. Almond flour's fine granulation allows the batter to mix evenly, and rise to perfection. As a plus to the delicious taste, texture and mouthfeel brought by the almond flour, this guilt-free cake provides added nutritional benefits, such as fiber, calcium and protein.
Innovating for the future of the "better-for-us" trend is essential to capture the consumer base who is concerned about the environment and their health. Thankfully, producers don't have to sacrifice taste or texture to achieve these goals with the help of almond-based ingredients. Contact us today to learn more about how to innovate with almonds.
References:
1 "4 Trends Shaping the Evolution of Sustainable Foodservice," October 2021
2 "52% of Americans Prefer the Taste of Vegan Protein, Says New Study," Live Kindly. 2021
Subscribe for More
Blue Diamond Insights