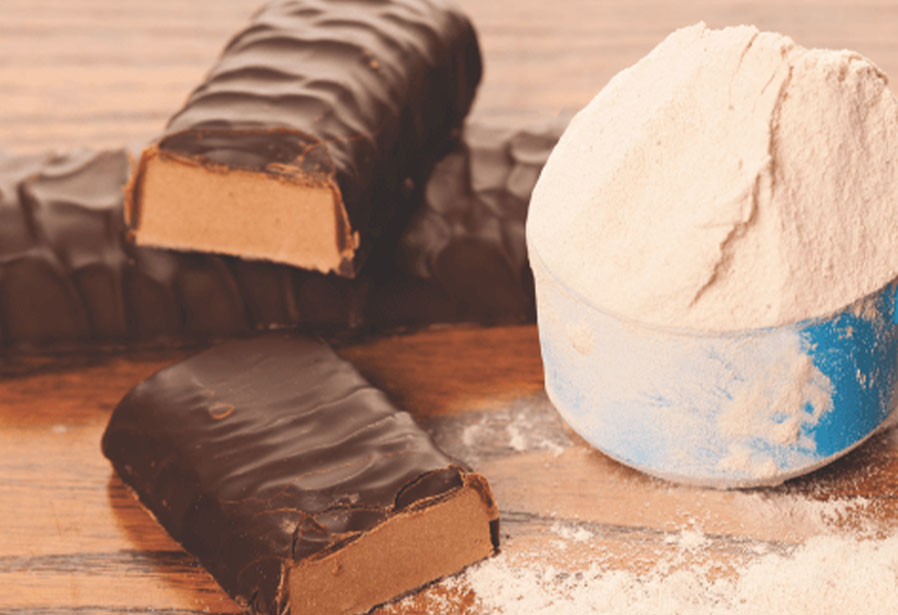 Dive into consumer confectionery demands, including: 

B

etter-

F

or-

Y

ou

B

enefits

 

P

lant-

B

ased

O

ptions

 

Transparent Ingredients

 

Demand for

N

ew

F

lavors and

T

extures

 
From high-protein chocolates to plant-based candies, evolving consumer preferences are driving new opportunities for innovation in the confectionery category. As consumers strive to eliminate undesirable ingredients from their diet—while still sampling new flavors and textures—many are seeking out better-for-you versions of their favorite sweets. 
Check out four shifts influencing confectionery innovation: 
1. A demand for better-for-you benefits
Consumers are looking for more nutritious options to satisfy their sweet tooth or snack cravings throughout the day. Nearly 50% of consumers are looking for healthier versions of chocolate1, which provides opportunities for brands to incorporate added health benefits to indulgences, such as reduced sugar, plant-based ingredients, and added protein. Perfect for confectionery treats, almond protein powder and almond butter blend seamlessly into indulgences, such as chocolate turtles. This allows formulators to create delicious products with better-for-you benefits, such as Vitamin E, fiber, and protein. 
2. Growing innovation in plant-based options
Plant-based confectionery have become more mainstream as product developers strive to respond to changing dietary preferences, including the growing popularity of keto and vegan diets. Research shows that the global vegan chocolate market is projected to continue growing at a compound annual growth rate of 13.7% by 20272. To match this growth, brands have an opportunity to not just follow the trend-but innovate and reshape the industry. With the help of the smooth mouthfeel and neutral taste of almond ingredients, like almond butter, formulators can blend other desired ingredients into a cohesive and innovative confectionery. 

3. Consumer desire for ingredient transparency
While they enjoy indulging, consumers still want to make more informed food choices and understand where their food comes from, with roughly 72% of shoppers finding ingredient transparency important3. Confectionery products that feature simple, recognizable ingredients will appeal to today's label-conscious consumer. Widely recognized for their delicious taste and health benefits, almond ingredients can help brands launch an indulgent treat that's made with trustworthy ingredients with added benefits such as fiber and protein.  

4. New explorations in flavor & texture
Regardless of the desire for better-for-you options, taste and texture remain primary purchase drivers in the confectionery category. Research shows that 67% of consumers want new flavors4, and over half enjoy products with textures like smooth, creamy and tender5. By innovating with new twists on sweet and savory flavors, brands can develop confectionery flavor experiences that align with today's consumer preferences. Brands also dabble in contrasting crunchy and creamy textures in confectionery products as they strive to create a more memorable and indulgent sensory experience for the consumer. Available in a wide variety of flavors, textures and forms, almond ingredients help incorporate the new flavor and texture experiences that modern day confectionery consumers crave. 

Whether used as a coating, topping or within a nut-filled center, almonds are a versatile, all-natural ingredient that can enhance flavor and texture in a range of confectionery products. Contact us today to learn more about how almonds can influence confectionery innovation. 
References:
"Interest in health, wellbeing drives better-for-you chocolate products,"

Snack Food & Wholesale Bakery.

2022.

 

"Vegan chocolate market -growth, trends, covid-19 impact and forecasts (2023-2028),"

Mordor Intelligence.

2022.

 

"Report shows modern consumer demand transparency from brands,"

The Food Institute.

2022.

 

"Kerry's Global Taste Charts,"

Food Ingredients First.

2022.

 

"Flavor, Color & Texture: New Flavors are Sparking Consumer Interest,"

FMCG Gurus.

2022

.

 
Sign Up for Monthly Access
to the Latest Insights!
Data submitted using this form will be used to provide services and may be used to send marketing materials, in accordance with our Privacy Policy.
Sign Up for Monthly Access to the Latest Insights!
Data submitted using this form will be used to provide services and may be used to send marketing materials, in accordance with our Privacy Policy.