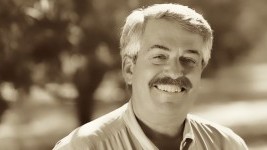 Northern Region
Windy conditions continued in the northern region, as observers reported average winds of 11 miles per hour, with gusts up to 17 miles per hour. High temperatures reached the low 70s in the afternoon and morning lows were in the lower 40s. With these conditions, bees were able to put in six to eight hours of good activity, depending on the levels of wind.
As the bloom nears its end, growers have been very satisfied with the weather and conditions for pollination of the 2015 crop. Warm daytime hours and sunshine over the past week have promoted good growth in the earlier blooming varieties, like Sonora, as they progress through their jackets and into nutlets. California varieties, such as Price and Aldrich, are showing strong growth and nutlets are beginning to swell. Only a few viable Butte and Padre flowers remain available for pollination in the southwest area of the region.
Beekeepers are starting to remove hives from orchards with earlier blooming varieties and have observed that hives look very strong. Despite very low morning temperatures, no observations have been made of frost damage, and growers are continuing to monitor the weather for threats of frost or rain.
Central Region
Wind activity was higher in the Northern San Joaquin Valley than the prior days, with average winds between 2 and 6 miles per hour, with peak gusts of 10 miles per hour. Bee activity slowed during periods of higher winds. With morning low temperatures in the low 40s and afternoon highs in the low 70s, bees were still able to put in six to eight hours of good activity.
The bloom has nearly reached the final stages in the central region. Although there are lower levels of flowers available for pollination, the Butte and Padre varieties continue to provide bees with viable pollen. Other varieties have little to no pollen or petals remaining in the central region. The southern part of Merced County continues to lag behind the rest of the region by a few days, and have a few more flowers available for pollination that the rest of the central region.
In anticipation of some rain this coming weekend, growers continue general orchard maintenance activities. Growers have been pleased with pollination activities, and water availability for the upcoming growing season remains a top concern.
Southern Region
The South San Joaquin Valley enjoyed bright, clear skies throughout the region as temperatures remained relatively warm. Wind speeds averaged 2 to 6 miles per hour, while gusts of 13 miles per hour were reported along the west side of the valley. Morning lows were in the high 30s, and afternoon high temperatures reached the upper 60s, giving bees an opportunity to put in seven to eight hours of very good activity.
Observers have reported the valley is looking increasingly green, as the weather has allowed trees to continue to scrub petals. Measurable amounts of nutlets are being observed in the early blooming Sonora cultivar. Bloom has reached the final stages in most varieties as very few petals remain on the trees. Smaller amounts of measurable flowers available for pollination can still be found in Butte and Padre plantings. Petal fall has progressed rapidly as well, with a large majority of most varieties in their jacket stage.
Given the late stage of bloom, beekeepers are starting to remove hives from the orchards. Growers continue orchard maintenance activities and are applying nutrient treatments to orchards as needed. Growers are now focusing on the weather, hoping for precipitation and watching for the threat of frost.
Blue Diamond Growers
Bloom Report
Area:

North

Date:
2/26/15
Posted On:
2/27/15
Weather Data:
Temperature —>
High –>
41
Low–>
41
Wind Speed —>
Average –>
11
Peak Gust –>
17
Rain —>
Inches –>
None
When –>
N/A
Clouds —>
Scattered High Thin Clouds
Fog –>
Bee Activity –>
4 to 6 good hrs depending on the winds
BLOOM STAGES
 
 
 
 
 
 
 
 
 
Percentages
Dormant
Green Tip
Pink Bud
Popcorn
Bloom
Petal Fall
Jacket
Nutlet
Total
Sonora
 
 
 
 
 
 
87%
13%
100%
Nonpareil
 
 
 
 
 
 
94%
6%
100%
California
 
 
 
 
 
 
93%
7%
100%
Carmel
 
 
 
 
1%
 
95%
4%
100%
Peerless
 
 
 
 
 
 
95%
5%
100%
Monterey
 
 
 
 
 
 
94%
6%
100%
Butte
 
 
 
 
3%
14%
83%
 
100%
Padre
 
 
 
 
3%
16%
81%
 
100%
Area:
Central
Date:
2/26/15
Posted On:
2/27/15
Weather Data:
Temperature —>
High –>
71
Low –>
41
Wind Speed —>
Average –>
2 to 6 mph
Peak Gust –>
10
Rain —>
Inches –>
None
When –>
N/A
Clouds —>
Clear w/occasional high thin
Fog –>
Bee Activity –>
6 to 8 hrs of good activity
BLOOM STAGES
 
 
 
 
 
 
 
 
 
Percentages
Dormant
Green Tip
Pink Bud
Popcorn
Bloom
Petal Fall
Jacket
Nutlet
Total
Sonora
 
 
 
 
 
7%
88%
5%
100%
Nonpareil
 
 
 
 
1%
14%
84%
1%
100%
California
 
 
 
 
2%
11%
87%
 
100%
Carmel
 
 
 
 
6%
36%
58%
 
100%
Monterey
 
 
 
 
1%
20%
79%
 
100%
Butte
 
 
 
 
36%
37%
27%
 
100%
Padre
 
 
 
 
46%
35%
19%
 
100%
Area:
South
Date:
2/26/15
Posted On:
2/27/15
Weather Data:
Temperature —>
High –>
67
Low –>
38
Wind Speed —>
Average –>
2 to 6 mph
Peak Gust –>
13 on Westside
Rain —>
Inches –>
None
When –>
N/A
Clouds —>
Clear
Fog –>
Bee Activity –>
7 to 8 hrs of Very Good Activity
BLOOM STAGES
 
 
 
 
 
 
 
 
 
Percentages
Dormant
Green Tip
Pink Bud
Popcorn
Bloom
Petal Fall
Jacket
Nutlet
Total
Sonora
 
 
 
 
 
 
96%
4%
100%
Nonpareil
 
 
 
 
 
1%
99%
 
100%
California
 
 
 
 
 
1%
98%
1%
100%
Carmel
 
 
 
 
1%
11%
88%
 
100%
Monterey
 
 
 
 
 
10%
90%
 
100%
Butte
 
 
 
 
8%
36%
56%
 
100%
Padre
 
 
 
 
19%
43%
38%
 
100%