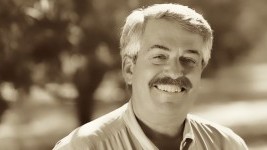 Central Region
Parts of the central region received measurable rainfall over the weekend, with as much as .20 inches reported in the Ripon area. Periods of rain and cloud cover Saturday afternoon were overshadowed by warm temperatures the rest of the weekend. Temperatures reached the mid-60s, with a low temperature reported in the upper 30s. With these conditions, bees were able to put in an average of 6 hours of good activity, outside of the rain events.
Rain, light winds and warm conditions encouraged the advancement from petal fall to the jacket stage for most varieties in the central region. The Nonpareil, California and Monterey varieties are beginning to show measurable nutlet development, while the Butte and Padre varieties still have measurable levels of flowers available for pollination. Southern Merced County is still lagging behind the rest of the district in bloom cycle. Over one-quarter of flowers in Butte and one-third of flowers in Padre remain available for pollination while other areas were closer to 10% to 20% of available flowers.
Growers continue orchard maintenance activities, and those with available water are continuing their regular irrigation schedule. With bloom winding down in the central region, the focus has shifted toward water availability and anticipated allotment for the growing season.
Southern Region
A wide variety of weather impacted the South San Joaquin Valley throughout the weekend. High temperatures ranged from the low to mid 60s, while lows ranged from the mid 30s to low 40s. Rain events Saturday evening occurred from Fresno into Kern County, with heavier amounts of rain further south. Observers reported accumulations of over half an inch in some areas of Tulare and Kern counties. Wind speeds ranged from two to ten miles per hour, with gusts up to 13 miles per hour on Friday. Clear skies Friday gave way to partly cloudy skies on Saturday before rain events. After the rain Saturday evening, partially cloudy skies were observed all day Sunday.
Warm weather on Friday allowed bees to put in 6 to 8 very good hours of work. Increased cloud cover and cooler temperatures on Saturday and Sunday limited bee activity in most areas. Bees were only able to put in 4 to 6 hours of fair to good activity depending on the cloud cover and temperatures on those days.
Bloom is nearly over in the southern region. No petals remain and nutlets are beginning to emerge in Nonpareil and California type varieties. Very few petals remain in Carmel and Monterey, as leaves are emerging at a rapid rate. Butte and Padre plantings have very little viable pollen left after the winds and rain over the weekend.
With the bloom virtually over, bee keepers have begun removing bees from orchards. Growers with available water that did not receive rain this weekend are continuing to irrigate to support the growing nutlets.
Blue Diamond Growers
Bloom Report
Area:
Central
Date:
3/1/15
Posted On:
3/2/15
Weather Data:
Temperature —>
High –>
64
Low –>
39
Wind Speed —>
Average –>
2 to 5 mph
Peak Gust –>
9
Rain —>
Inches –>
When –>
Clouds —>
Clear AM Scattered PM
Fog –>
Bee Activity –>
6 to 7 good hours of activity
BLOOM STAGES
 
 
 
 
 
 
 
 
 
Percentages
Dormant
Green Tip
Pink Bud
Popcorn
Bloom
Petal Fall
Jacket
Nutlet
Total
Sonora
 
 
 
 
 
 
89%
11%
100%
Nonpareil
 
 
 
 
 
2%
94%
4%
100%
California
 
 
 
 
 
3%
93%
4%
100%
Carmel
 
 
 
 
 
13%
87%
 
100%
Monterey
 
 
 
 
 
6%
92%
2%
100%
Butte
 
 
 
 
12%
34%
54%
 
100%
Padre
 
 
 
 
21%
38%
41%
 
100%
Area:
South
Date:
3/1/15
Posted On:
3/2/15
Weather Data:
Temperature —>
High –>
65
Low –>
39
Wind Speed —>
Average –>
2 to 5 mph
Peak Gust –>
8
Rain —>
Inches –>
T-.5
When –>
Mostly Sat. evening with a little on Sunday with accumulations between Fesno and Kern
Clouds —>
Scattered
Fog –>
Bee Activity –>
4 to 6 hours of fair to good
BLOOM STAGES
 
 
 
 
 
 
 
 
 
Percentages
Dormant
Green Tip
Pink Bud
Popcorn
Bloom
Petal Fall
Jacket
Nutlet
Total
Sonora
 
 
 
 
 
 
92%
8%
100%
Nonpareil
 
 
 
 
 
 
98%
2%
100%
California
 
 
 
 
 
 
95%
5%
100%
Carmel
 
 
 
 
 
5%
95%
 
100%
Monterey
 
 
 
 
 
1%
98%
1%
100%
Butte
 
 
 
 
1%
19%
80%
 
100%
Padre
 
 
 
 
6%
48%
46%
 
100%