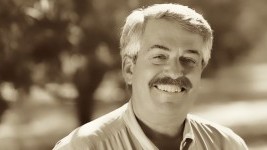 Central Region
Weather conditions varied throughout the region. A high temperature of 62 degrees, as well as a low of 44 degrees, were fairly consistent throughout. Wind speeds and precipitation levels, however, varied dramatically. As much as .2 inches of rain fell over parts of western San Joaquin County and the southeast end of Stanislaus County. Along with isolated thunderstorms, light hail was reported in these areas as well. Wind speeds averaged 5 to 8 miles per hour in most areas, with gusts reaching up to 17 miles per hour. Due to these conditions, bees were only able to put in 4 to 6 hours of fair activity.
In areas that received higher wind speeds and rain, petal fall was exaggerated in the Butte and Padre varieties. Observers have noted that while the Butte and Padre varieties appear to be hanging on to their petals, many of the flowers still in bloom no longer have viable pollen. This is a sign that we are at or near the end of bloom in the central region.
As bloom in the region winds down, growers are keeping their eye on the developing nutlets. The Nonpareil and it's pollenizer varieties have begun breaking out of their jackets and the nutlets are beginning to swell.  As the crop develops, chances are that the larger nuts will be retained and smaller nuts  will be shed from the tree in the coming weeks.
Tomorrow's report will be the last for this year's bloom. The next scheduled report will be posted on Monday, March 16, 2015. In the event of any significant occurrences prior to that date, this site will be updated as soon as possible.
Blue Diamond Growers
Bloom Report
Area:
Central
Date:
3/2/15
Posted On:
3/3/15
Weather Data:
Temperature —>
High –>
62
Low –>
44
Wind Speed —>
Average –>
5-8
Peak Gust –>
17
Rain —>
Inches –>
tr-.2
When –>
noon through afternoon. Off and on throughout region
Clouds —>
PC am. OVC during rain
Fog –>
None
Bee Activity –>
4-6 hours fair depending on conditions.
BLOOM STAGES
 
 
 
 
 
 
 
 
 
Percentages
Dormant
Green Tip
Pink Bud
Popcorn
Bloom
Petal Fall
Jacket
Nutlet
Total
Sonora
 
 
 
 
 
 
88%
12%
100%
Nonpareil
 
 
 
 
 
 
95%
5%
100%
California
 
 
 
 
 
1%
92%
7%
100%
Carmel
 
 
 
 
 
5%
95%
100%
Monterey
 
 
 
 
 
 
97%
3%
100%
Butte
 
 
 
 
6%
25%
69%
100%
Padre
 
 
 
 
12%
34%
54%
100%