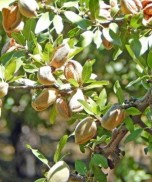 Bill Morecraft
General Manager
Global Ingredients
Blue Diamond Almonds
Overview –
The 2015 California almond crop harvest is underway. As of mid-September, the harvest is ~50% complete. The crop projects to be below the 1.8 billion NASS Objective Estimate, based on a lighter than expected Nonpareil crop. The Nonpareil crop is likely 10% or more off of last year's 713 million lbs. Early pollenizer receipts look to also be lower than last year, but off by less than the Nonpareil crop. The best estimates of the 2015 crop place it between 1.70 and 1.75 billion lbs.
The first Almond Board Position Report was issued on Friday, September 11, covering activity through August 31. In the first ABC report of the year, beginning inventory is reset to reflect actual losses reported, rather than the 3% loss estimate used by the ABC. The rest (or redetermination) resulted in a beginning inventory of 376 million lbs, or 26 million more than last year. Shipments for August were lighter than last year, off by 15 million lbs. Domestic almond shipments increased by nearly 3 million lbs or 5.5%, while export shipments declined by 18 million lbs or 20%. Finally, commitments against the 2015 supply are also down 70 million lbs and 16% from last August.
The lighter shipments and commitments through August are the result of a combination of handler and buyer actions. Many handlers were reluctant to offer early, recalling the multi-year trend of prices climbing throughout crop years and last year, prices spiking during a disappointing harvest. Many buyers were correspondingly reluctant to make large early 2015 crop purchases at prices equal to the peak prices paid for late 2014 crop. With the 2015 Nonpareil crop indeed coming in short of the NASS Objective Estimate, California sellers continued to offer sparingly in August. Subsequently, prices have declined moderately as buyers and sellers calculate and recalculate the potential impact of multiple variables. Demand, as always, will be impacted by availability, as well as and macro and micro economic, and geopolitical conditions in individual markets. Projecting the 2015 crop accurately and resulting demand across multiple markets at shifting price levels at this early stage is difficult to say the least.