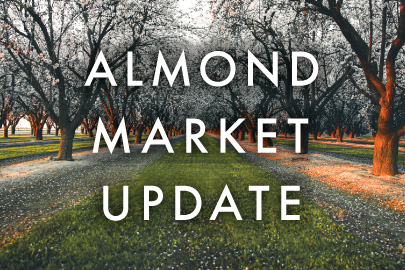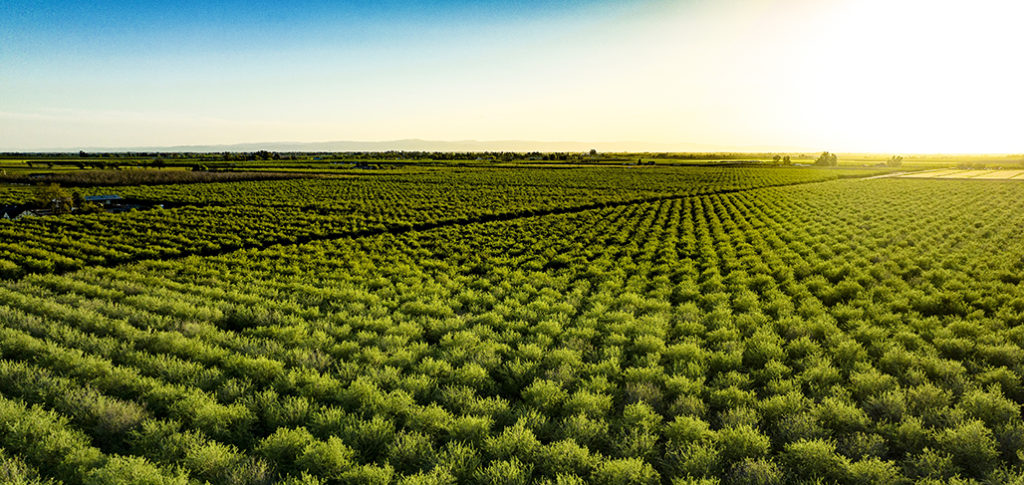 Laura Gerhard
Vice President
OVERVIEW
The ABC April Position Report exceeded expectations by posting the best shipment number of the crop season thus far. Shipments for the month were 245 million lbs, a 1.9% decline versus last year's record 249 million pounds. The domestic market shipped 62 million lbs, down 10% versus prior year, but in line with the shipment range seen this crop season. The export markets achieved record shipments for the month at 183 million pounds. As we round off the 3rd quarter of the crop season, year-to-date shipments now stand at 1.928 billion lbs, 13.5% behind last year.
SHIPMENTS
India: Shipments to India were up 29% over last year, shipping 28 million lbs for April. Year to date shipments are 266.2 million lbs, down 14% from last year. The traditional monthly shipment pattern has been severely distorted due to logistical issues which are expected to continue into the foreseeable future. The market remains robust as an early Diwali requires product from the current crop to meet market needs.
A free trade agreement between Australia and India will see duties for almonds cut by 50% for up to 34,000 MT. Details on timing and implementation for this agreement are being developed. The agreement will not have a significant impact on inshell demand from California as overall global demand for inshell continues to outpace supply.
China: Shipments to China were down over 3 million lbs, or 32%, compared to last year. With 104.7 million lbs shipped, the Chinese market is now down 27% year-to-date. As expected, current buying needs are being filled with product from Australia over the last few months impacting demand and shipments from the US.
Europe: Shipments to Europe were down 5.3% versus last year, shipping 71 million lbs for April. The market continues to follow a similar shipping pattern as last season, with heavier shipments over the summer months to build inventories to assure availability for the fall and winter months. The Ukraine crisis, a strong dollar and inflationary pressures have many buyers concerned about the future of demand in the region.
Middle East: Shipments to the Middle East were up 29% versus prior season as the industry was better able to execute on shipments to the region in April. Although the market reported strong Ramadan sales, vessel logistic challenges did cause limitations. Nevertheless, the strong April shipments will provide a much-needed boost as the region remains short on in-market supply.
Domestic: US shipments were down 11% for the month of April with the industry shipping 62.4 million pounds. Supply chains continue to be problematic in getting product from manufacturer to retail shelf and to the end consumer. Year to date shipment numbers are steady and remain within 3-4% of last year's record domestic total despite the challenging macroeconomic environment.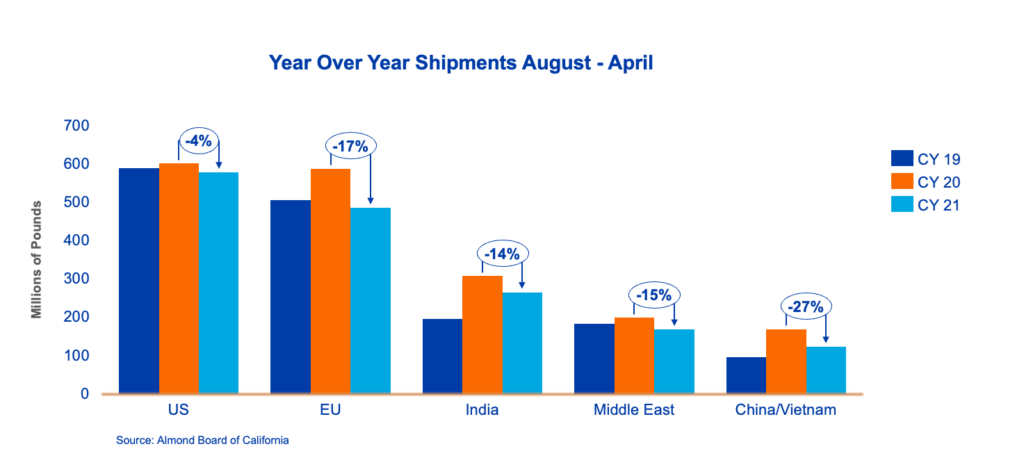 COMMITMENTS
Total commitments to date stand at 754 million lbs, up 4.24% from last March. New sales numbers were again positive at 168 million lbs versus 162 million lbs last year as buyers continue to take advantage of historically low almond prices. Uncommitted inventory now sits at 771 million lbs, 45% higher than last year. Sold and shipped as a percent of total supply is at 78% vs 85% last year. Vessel shipping execution over the remaining three months of the crop year will be critical to managing the carryout.
CROP
The crop now sits at 2.9 billion lbs and will likely finish marginally higher for the season. Pollenizer inventories remain abundant while Nonpareil (both kernel and inshell) is in shorter supply, pushing the price differential between the two to higher levels.
This month also saw the release of the USDA's National Agricultural Statistical Service (NASS) subjective almond forecast for the 2022 crop at 2.80 billion pounds. The bearing acreage is a record high at 1,370,000 with the forecasted yield at 2,040 lbs per acre, down 7.6% versus prior season. The report is in line with market expectations. As such, it is expected to have little effect on price in the near term.
Market Perspective
April shipments exceeded market expectations for the second straight month and set a new high for the crop year. Export shipments led the way turning in a record for the month as the industry continues to find ways to execute on container bookings. Overall, shipments were a welcome sight to an industry looking to drive down the carryout.
Market activity for the month cooled off as buyers waited in anticipation for the USDA Subjective Estimate to provide some price guidance. Inflation and currency exchange rates present headwinds in the near term. Even with that, commitments are adequate and present an opportunity for continued strong shipments to end the crop year on a high note. Executing logistically remains the limiting factor and will be a major focus for the industry in the final three shipping months.
Price overall remains steady at affordable levels and reflects the current supply and demand imbalance.  Will continue to see spreads between abundant pollenizers and shorter Nonpareil supply continue to widen. The industry will continue to analyze the 2022 crop forecast over the coming weeks.
To view Blue Diamond's Market Updates and Bloom Reports Online Click Here
To view the entire detailed Position Report from the Almond Board of California Click Here