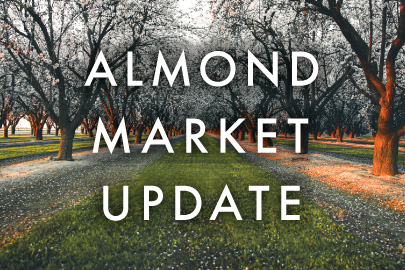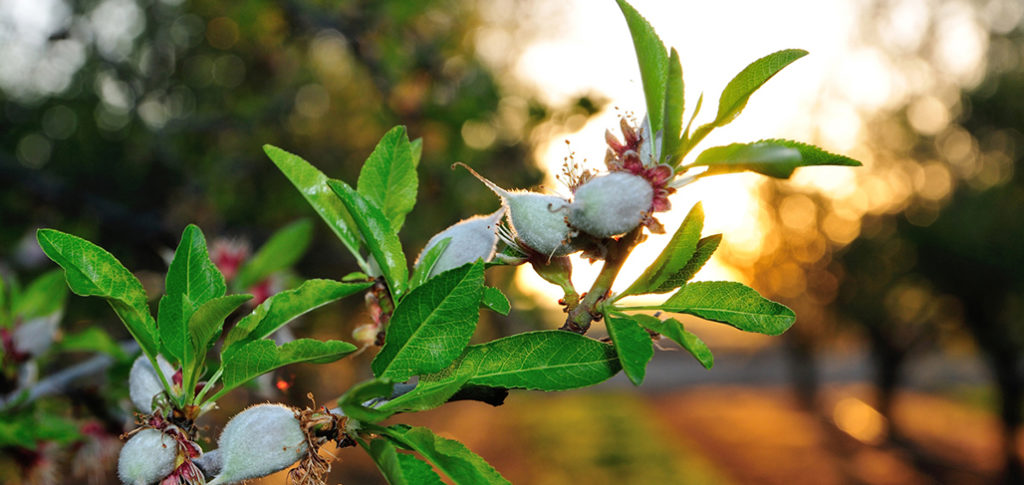 Laura Gerhard
Vice President
OVERVIEW
The ABC March Position Report exceeded expectations by posting the best shipment number of the crop season thus far. Shipments were just shy of 245 million lbs for the month, an 8.1% decline versus last year's record 266 million lbs, but well ahead of the sub-200-million-pound shipments experienced in recent months. Both the domestic and export markets experienced season highs at 72 million lbs and 173 million lbs, respectively. Year-to-date shipments now stand at 1.683 billion lbs which is 15% behind last year.
SHIPMENTS
India: Shipments to India were almost identical for the month of March compared to the same time last year. Year-to-date shipments are down 17% and stand at 238 million pounds. As shipments from California continue to be challenged and delayed while supplies for Nonpareil and Independence inshell have dwindled, the India market is eager to book contracts now for shipment over the next 3-4 months to have supplies in time for Diwali. This has resulted in a very firm market with increasing prices for Nonpareil and Independence inshell.
China: Shipments to China were down slightly less than a million pounds for the month of March compared to same time last year. Shipments were down 27% with 97.9 million lbs shipped to date. Heavy shipments to China cooled off as Chinese New Year approached, and buyers are now reentering the market with limited buying and price checking. Australia is expected to enjoy most of the demand for almonds over the next few months due to its duty-free inshell offering.
Europe: After experiencing a slow first half, the European market has now posted strong shipments for the second consecutive month. March shipments were 77 million lbs, down from the 81 million lbs shipped during the same time last year. European buyers appear to be following a pattern similar to last season, building heavy inventory positions over the summer months. Market expectation is that this cycle will continue to ensure stock availability for the fall and winter months out of current crop.
Middle East: The Middle East has been one of the more active markets over the last month as it appears short on supplies and looking to replenish inventories post-Ramadan. Shipments were down 25% for the month. Vessel logistics continue to be a major challenge to this region with vessel delays threatening timely arrival and availability for peak consumer demand. New sales activity in the region is a welcomed sign that demand remains strong bolstering kernel pricing as a result.
Japan: Shipments to Japan were notable for the month at 14.7 million lbs, up 51% compared to last year. Year-to-date shipments were up 18%. Buyers have been more active in recent months taking advantage of affordable pricing as well as working to build inventories to mitigate potential pipeline and logistic issues in the future.
Domestic: US shipments showed a strong rebound for the month at 71.8 million pounds. This is up 34.6% compared to February and sets a new monthly record for March coming in slightly higher than last year's number.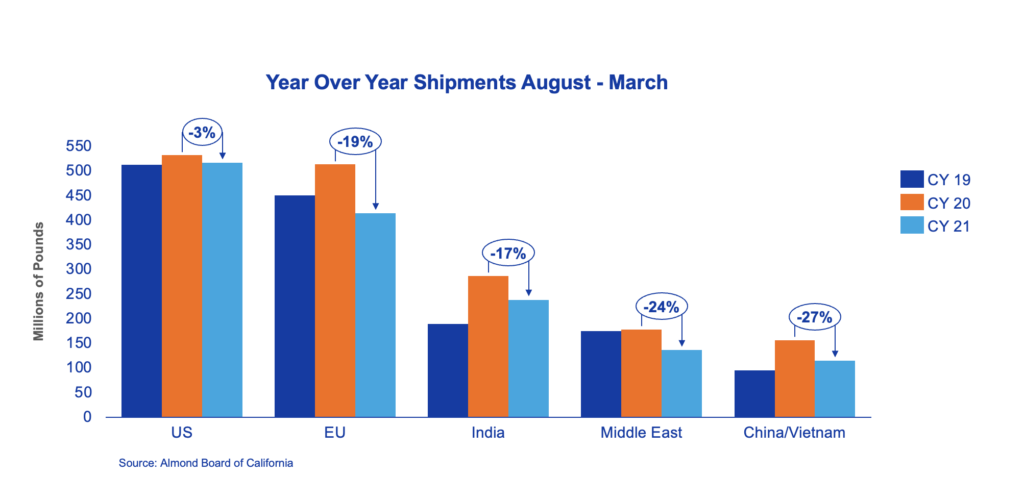 COMMITMENTS
Total commitments to date stand at 832 million lbs and are up 2.55% from last March. New sales numbers were again positive at 219 million lbs compared to 191 million last year as buyers continue to take advantage of historically low prices. Uncommitted inventory sits at 936 million lbs which is 35.5% higher than last year. Sold and shipped as a percent of total supply is at 73% compared to 80% last year. Vessel shipping execution over the remaining four months of the crop year will be critical to managing the carryout.
CROP
With much of the crop having been received, crop receipts for the month were down to 9.5 million pounds. The crop now sits at 2.9 billion lbs and will likely finishing marginally higher for the season. It is still an unknown what impact the freeze may have on the 2022 crop, but it is increasingly clear that at least a portion of the north and central growing regions did experience some crop damage, especially in the early blooming Nonpareil variety.
Nonpareil prices have firmed in recent weeks as inventories start to dwindle. This variety is down 13% versus last season's record harvest. This season has also seen a higher percentage of rejects at 2.01% versus 1.36% last season, pointing to an overall lower quality Nonpareil crop for the 2021 crop season. As we enter the end of the crop season, it is apparent that this variety has much tighter inventory position than other varieties as the annual demand for the variety continues to outweigh the supply. As we head into new crop, it is likely that the spread between Nonpareil and other varieties will continue to be firm given the global demand.
Market Perspective
March shipments exceeded market expectations turning in the best performance of the crop year to date. Domestic shipments bounced back making up for last month's decline while exports showed good growth for the second consecutive month. New sales for the month were a record, pointing to continued strong demand at current affordable price levels with price finding some stability over the past 2-3 weeks.
The report brought some relief to the industry as it was a step in the right direction towards reducing the carryout in a meaningful way. Commitments indicate sufficient volume and good shipment-potential for the remaining 4 months of the crop year. While seeing some improvement, vessel logistics issues linger and remain vital to moving the crop. The big question going forward will be how much of the commitments can be executed to continue driving down the carryout and avoid pushing sales volume into the new crop. It remains prudent for buyers to consider covering their needs earlier than anticipated to avoid supply disruptions.
The industry continues to analyze the California almond crop and the impact of last month's freeze on production. The next major milestones for the 2022 crop will be the USDA Annual Acreage Report on April 28 and the Subjective Forecast on May 12.
To view Blue Diamond's Market Updates and Bloom Reports Online Click Here
To view the entire detailed Position Report from the Almond Board of California Click Here