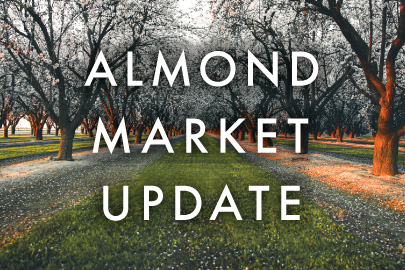 Laura Gerhard
Vice President
OVERVIEW
The 2022 crop year started off strong with shipments exceeding industry expectations and setting a record for the month. Shipments for the month totaled 228 million pounds,10% higher than last year's record. Export shipments came in at 163 million pounds, up 35% to last month and 16% to last year. The industry experienced good container movement for the month which is encouraging news after July's difficult performance due primarily to the Oakland trucker strike which slowed port activity for a week. Domestic shipments rebounded from last month, shipping 65 million pounds, up 14% to last month and down 2% to last year.
SHIPMENTS
India: Shipments for the first month of the 2022 crop year came in at 22.3 million pounds, down 39% to last year. This lower number is welcomed in India as shipping for the upcoming Diwali season has concluded and purchases are now for positions after Diwali. India will pay close attention to the lower projected Nonpareil Inshell supply from new crop as demand continues to increase.
China: August shipments to China, currently one of the more active markets, totaled 9.3 million pounds, up 33% to last year. With the recent Mid-Autumn festival, the market will be anxious to see indications of consumer demand. Activity is expected to continue over the coming weeks as the market positions itself for the upcoming Chinese New Year holiday. The Government's COVID controls continue to be the main factor limiting demand and a strong dollar remains problematic.   
Europe: The European market continues to take shipments from the 2021 crop as standards and SSR material hit a season low, shipments for the month were up 11% versus last August.  Purchase activity was limited in August as sellers primarily focused on moving 2021 crop while buyers primarily looked for 2023 new shipments. The major concern throughout Europe continues to be inflationary pressures, a strong dollar and concerns regarding energy scarcity as markets move into the heavier energy consuming winter months. With the market well covered, expectations are to see a lighter shipment pattern into the first quarter of new crop shipments.
Middle East: Shipments to the Middle East were up 174% versus last August as buyers in the region took advantage of low-priced Nonpareil kernels in the final months of the 2021 crop and vessel execution improved. Market activity for new crop has been quiet but is expected to pick up in the coming weeks with Ramadan on the horizon. Buyers will look to cover shipments in the coming months to allow ample time for product to arrive and avoid shortages during peak demand. The market is optimistic as the Qatar World Cup 2022 will lead to increased demand.
Domestic: The domestic market posted a significant rebound for August up 14% compared to the prior month, shipping 65.4 million pounds. This is in line with the domestic average seen for August over the last five crop seasons. Domestic commitments sit at 303 million pounds, up 11% year-over-year, ahead of what is typically an active booking season for the region.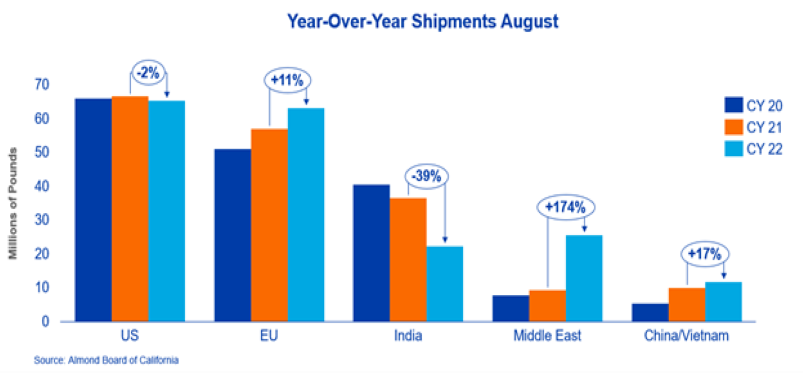 COMMITMENTS
Commitments at the end of August totaled 614 million pounds, down 14% from last year. New sales for the month were 195 million pounds, up 42% versus the prior year. Inshell sales were most active while Nonpareil kernels had a slow start to the crop year.
CROP
Harvest was in full swing with crop receipts totaling 264 million pounds. The industry will have more data on the crop characteristics as harvest and processing continues. There is some concern about Nonpareil production due to the above average heat experienced in recent months as well as continued water limitations.
Market Perspective
The 2022 crop year started off on a positive note exceeding expectations for shipments with a record setting month. Export shipments recorded a strong month while domestic shipments rose back to ranges typically seen last crop year.
Price has been relatively stable with handlers analyzing new crop production and quality on one side and buyers gauging consumption on the other. Demand for the month was higher compared to last year, a welcomed and positive sign for the market. Macro-economic pressures will continue to challenge demand in the short-term. Price direction should become more clear in the coming months as the crop continues to come in.
Harvest has been active for weeks as receiving picked up at packer and handler facilities. The industry's attention will be focused on comparing crop production and quality against expectations.
To view Blue Diamond's Market Updates and Bloom Reports Online Click Here
To view the entire detailed Position Report from the Almond Board of California Click Here