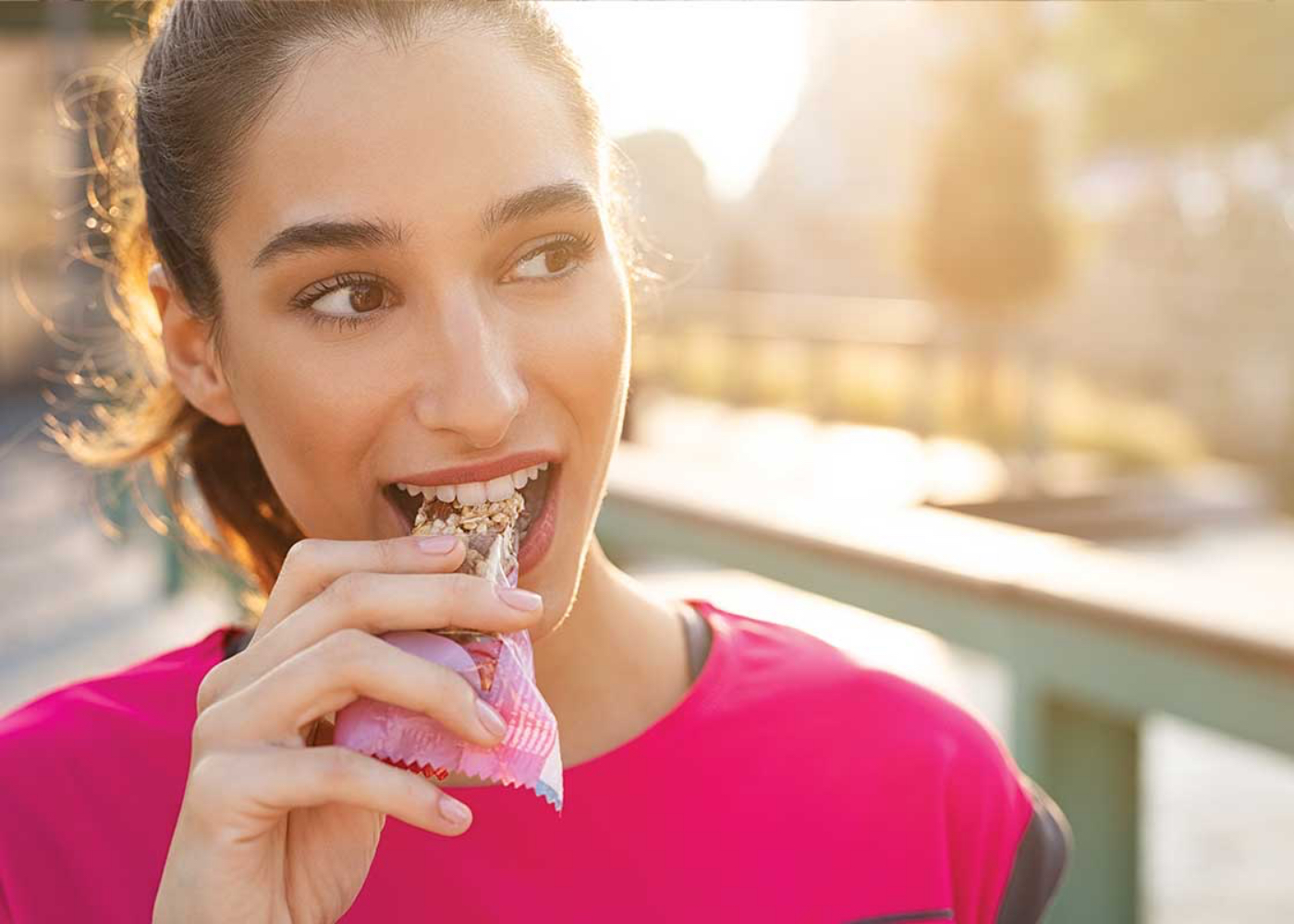 Bars are an ideal go-to option for any snacking occasion, whether a healthy on-the-go breakfast, fuel for a workout, or satisfying a midafternoon craving.
Much of the recent growth in the bar category can be attributed to consumer interest in protein and functional nutrition bars, which have evolved as popular and convenient meal replacement options.
We talked with Blue Diamond R&D Director Kurt Waananen about how product developers are responding to these trends, and how almonds can help create appealing products for a more health-conscious and label-conscious consumer.
1. What innovation trends are you observing in the bar category?
Consumers are craving healthy, convenient solutions for snacking and meals, and this trend continues to drive growth and innovation in the bar category. Many new products today prominently feature simple and natural ingredients because consumers are showing a growing preference for minimally processed and clean label foods.
With consumers becoming more health-conscious, product developers are also striving to add more functional benefits to their bar products, including added protein to promote long-lasting energy and fiber to boost gut health. Plant-based proteins, in particular, sync with consumers' growing interest in natural food ingredients and a simpler label.
2. How is the demand for healthier and cleaner ingredients impacting new product development for bars?
Bar manufacturers are increasingly challenged to create more nutritious products that still deliver great flavor. One of the most common formulation challenges in bars is hitting high protein targets while maintaining optimal taste and texture. Some plant-based protein sources, such as soy or pea protein, can produce a gritty texture or earthy off-notes that linger in the finished product. Protein bars can also develop a hard texture over time, due to the high water absorption properties of plant-based protein ingredients.
Consumers increasingly want to know more about where their food comes from and how it was produced, so there is a growing emphasis on transparent sourcing.
Consumers also increasingly want to know more about where their food comes from and how it was produced, so there is a growing emphasis on transparent sourcing – 83% of formulators say U.S.-sourced proteins are very important.1 Product developers are also challenged to create products with clean ingredients that the majority of consumers recognize as being healthy and natural. This can be difficult to achieve when working with highly processed protein ingredients, such as isolates, concentrates, or proteins extracted with hexane.
3. How can manufacturers overcome these challenges?
In order to deliver functional, protein-enhanced products while still meeting expectations for a clean label, product developers are finding new ways to leverage plant-based ingredients within their formulations. Almonds, which are the tree nut highest in protein and five other essential nutrients, have long been recognized as a versatile superfood, and are benefiting from new interest as an all-natural and plant-based source of protein for bars.
With almond protein powder, food manufacturers can capitalize on consumers' affinity for natural, plant-based ingredients as well as their trust in the health and taste of almonds, while adding unique functional benefits to their bar product offerings. Within protein blends, almond protein can aid in diluting the "earthy" notes and textures contributed by other protein sources. The ingredient is also an excellent source of fiber, which adds satiety-boosting benefits to protein bars.
4. How can almond protein powder be used in a bar? What benefits does it add?
Almond protein powder can be easily added as another dry ingredient in binders, coatings, crisps, and more. It provides a neutral taste background to build a desired characteristic flavor profile, which is desirable in bar applications.
The combination of these attributes make it possible for formulators to use almond protein as a base for new, protein-enriched products with great taste, texture and a simpler label. Almond protein also adds fiber to formulations and is saturated fat and cholesterol-free, offering many of the original benefits people love about almonds.
5. What other forms of almonds work in bars?
Many forms of almonds work in bars! Diced, sliced, whole and split almonds are ideal for adding texture as an inclusion or a topping. Almond butter can be used to create a creamy, smooth filling that complements the crunch of other ingredients. It can also be used in the binder for cold formed bars, or as an ingredient to soften baked bars. Gluten-free almond flour can be used in combination with other gluten free whole grain flours to create desirable baked bars. All are clean label and well perceived by consumers on the ingredient list, and all provide neutral or roasted flavor.
Incorporating almonds in a variety of forms, including Almond Protein Powder and Almond Butter, can help bar manufacturers hit higher protein targets and add other important nutritional benefits to their products, such as fiber. Check out these tips for more expert insights on innovating better bars.
Sources:
Global Food Forum Study. 2017.
Filed under: Almond Maket Analysis
Article originally published December 2020.
Subscribe for More
Blue Diamond Insights