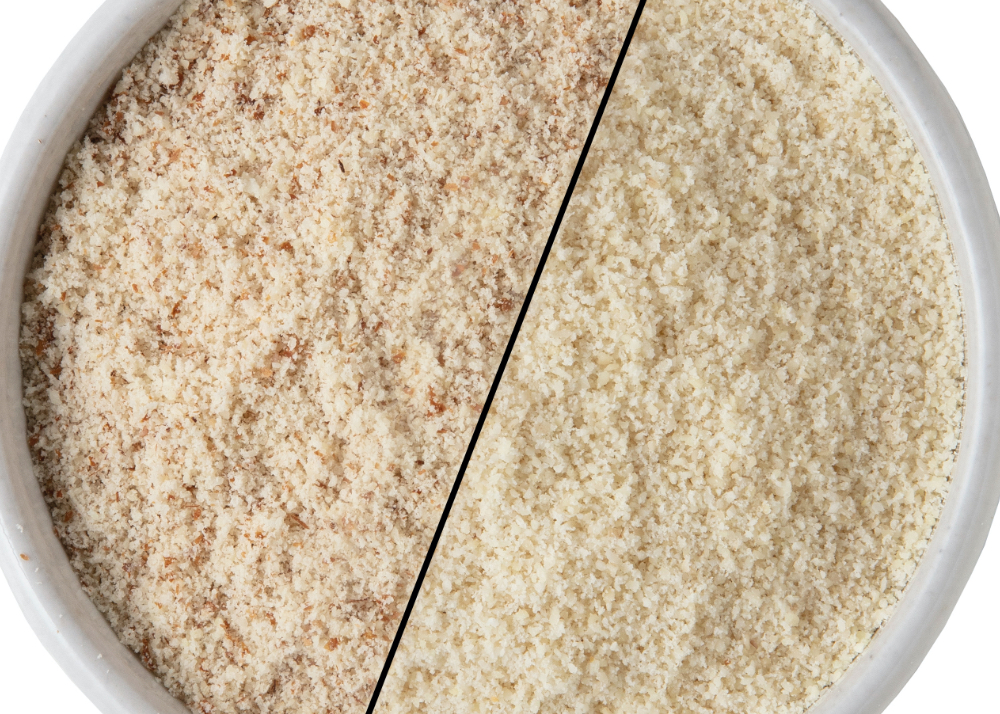 Blue Diamond's Stephanie Doan explains:
Overcoming formulation challenges in gluten-free baked goods
Innovating with almond flour
How to choose the right almond flour for your product
Much of the growth in the gluten-free category is driven by consumers' growing interest in more natural and nutritious ingredients, as well as a general desire to live a healthier and cleaner lifestyle.
Products made with almond flour are gaining popularity as consumers look for gluten-free versions of their favorite bakery goods, or those that align with specialty diets, such as the paleo or keto diet.
To help you deliver appealing better-for-you bakery products, we talked with Stephanie Doan, Manager of Product Innovation at Blue Diamond, about tips and strategies for innovating with almond flour.
1. What challenges do bakers face when formulating gluten-free products? How does almond flour help with these challenges?
Some of the most common challenges that arise with gluten-free baked goods are the lack of desired product rise, gummy texture, and gritty mouthfeel. If not properly formulated, products can have little to no rise or even fall after baking.
It's important to formulate your gluten-free baked goods with the proper balance of almond flour, gluten-free flours, and starches. Almond flour not only provides great flavor, but also healthy fats that help create tender cakes, brownies and chewy cookies. Crispy and crunchy cookies and crackers can be achieved with almond flour by reducing or binding moisture in formulations, baking at slightly higher temperatures, and allowing products to completely cool before removing from the pan.
2. Does almond flour offer any additional nutritional benefits?
Bakery products made with almond flour typically require less added fats and oils than the original recipe with traditional flour. Almond flour also adds important nutrients, including fiber, protein, magnesium, and Vitamin E, to name a few. Bakers can leverage these benefits to promote the nutritional content of their gluten-free baked products, and consumers can feel better about their choices knowing that gluten-free options might offer additional health benefits.
Fats and oils should also be reduced by approximately 25% when baking with almond flour…"
3. What recipe adjustments need to be made when substituting almond flour for traditional flour?
All recipes are unique. If the recipe calls for traditional flour, start with that same amount of almond flour. Slowly add more almond flour until your batter reaches the desired thickness. When baked, almond flour doesn't build the same crumb structure as traditional gluten-containing flours and therefore recipes may require an increase in egg or the addition of other gluten-free functional flours to deliver the desired baked good texture. Finally, be careful not to overmix the batter, as the added air can cause it to rise too quickly before the protein structure sets, resulting in dense or sunken baked goods.
Fats and oils should also be reduced by approximately 25% when baking with almond flour, as the flour itself has a higher fat content compared to traditional flour. For best baking results, batters and doughs should contain less water than traditional recipes to balance the higher moisture and fat content of almond flour. Sugar may also be reduced as almonds contribute a sweet flavor on their own.
4. What should formulators consider when choosing between natural and blanched almond flour, or fine vs. extra-fine varieties?
The performance and stability of blanched and natural flours are similar. Natural flour works well in hearty pancakes, muffins, and cookies. The almond skins provide visual appeal and a more natural rustic look in the finished product.
Extra-fine almond flour is often used in pastries like macarons, where the light and airy cookie requires a smooth exterior and delicate texture. However, extra-fine blanched or natural almond flour can be used in any baked good, including pie crusts, cakes, cookies, muffins, breads and pancakes, to create a soft, delicate and moist crumb.
Experts at our Almond Innovation Center can help you develop creative new ways to use almond flour in bakery innovations and identify the right almond forms for your application needs. For more information on almond ingredients and applications, contact us today.
Article originally published June 1.
Subscribe for More
Blue Diamond Insights