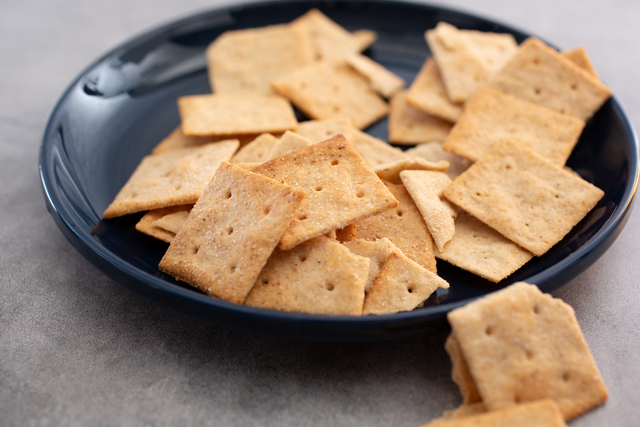 Simple, Real Ingredients Series
Uncover simple, real ingredient formulations with almonds, such as:
Crispy Almond Crackers
Almond Flour Pasta
Trail Mix with Chocolate Almonds
With "no added preservatives," being one of the most successful claims of all time, and 52% of consumers saying that they are looking for products with minimal ingredients, it's clear that they want to keep things simple1. Whether it be a homemade meal, an on-the-go snack or a protein-packed shake, consumers want their foods and beverages made with a simple list of real, recognizable ingredients.
Check out three delicious ways to innovate with simple, real ingredients:
1. Crunchy Almond Crackers:
An appealing mouthfeel plays a huge role in consumer satisfaction, especially when it comes to healthy alternatives. A crisp almond flour cracker provides the highly sought-after "crunch factor," without compromising on flavor and health, while the sweet, buttery profile of almond flour achieves the desired taste, and contains fiber and Vitamin E.
With a clean taste, smooth texture, and fine granulation, almond flour blends seamlessly into a permissibly indulgent pasta dish. Perfect for a gluten-free meal, almond flour pasta allows consumers with a gluten intolerance or preference for healthy alternatives to still enjoy the dish they love. Almond flour adds fiber, protein and other essential micronutrients to a pasta dish, while still pairing well with any sauce as a result of its neutral flavor profile.
3. Trail Mix with Chocolate Almonds:
What is trail mix without chocolate? Appeal to both health-conscious consumers and chocolate lovers with chocolate almonds within trail mix for a better-for-you, simple snack. Almonds offer the crunchy texture consumers desire while also adding antioxidants, vitamins, and minerals.
If you're hungry for more industry information and insights, click here to access our webinar on 2022 food and beverage industry innovations. Want more information on simple ingredient formulations? Contact us today.
References:
1 "Meeting consumer demand for 'simple' isn't as simple as it appears, but it is possible, Mintel says," Food Navigator-USA. 2016.
Sign Up for Monthly Access to the Latest Insights!