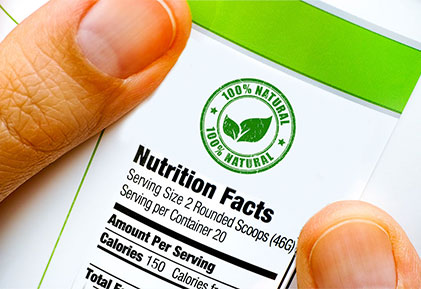 We'll explore three aspects of clean label, like:
Consumer Perceptions
Sustainable, Nutritious Ingredients
Meeting Demands Through Innovation
For trends that make a lasting impact on the food and beverage industry, such as clean label, it can be difficult to predict and innovate for what's to come. With a projected market size of $64.1 billion by 2026 and a 6.8% growth rate,1 the clean label ingredients market isn't slowing down anytime soon. However, clean label can mean different things to different consumers, and it continues to evolve based on changing consumer preferences.
From a formulation standpoint, this means brands must keep a pulse on this trend and determine what clean label means to their customers, how it's changing, and what they can do to meet shifting demands.
Learn what's in-store for the future of clean label:
Differing Consumer Perceptions
Because clean label is open to interpretation, it's important to identify those varying perceptions. When seeking out clean label products, for example, researchers found:
83% of consumers liked seeing "100% natural" claims
67% of consumers preferred products that were minimally processed2
25% view clean label as a fast pass to a healthier lifestyle
80% are willing to pay more for healthier or cleaner products2
Others are opting for clean label because they'd like to avoid any potentially harmful effects from chemical sounding or unfamiliar ingredients2 in non-clean formulations. Research found that consumers also associate clean claims with the health of the planet, with 56% of U.S. consumers agreeing that natural foods are better for the environment and 61% saying it's healthier3.
Regardless of preference or reasoning for purchasing clean label products, one thing stays the same: consumers gravitate to clean label because they're looking for simple, nutritious ingredients. Almonds, for example, offer brands a healthy, recognizable ingredient that addresses each of the varying consumer perceptions within the clean label trend.
Sustainable, Nutritious Ingredients
Consumers are demanding new twists to clean label products, such as sustainable, clean takes on nostalgic foods. With 74%4 of consumers saying that sustainability is an important factor when making a purchase and 81%5 of consumers interested in products that support immune health, it's crucial that formulators pay close attention to interests in sustainable nutrition. To intertwine the evolving demands and offer evidence-backed claims, formulators can incorporate ingredients that are not only clean label, but sustainable and nutritious, like almond ingredients.
Packed with nutrients such as protein, fiber and vitamin E, almonds and almond ingredients are easily recognizable to consumers, making it an ideal inclusion for clean label products. Blue Diamond almonds are also grown sustainably by implementing various sustainable growing practices, such as efficient microirrigation, Bee-Friendly Farming certifications (BFF) and more.
Meeting Demands Through Innovation
To meet evolving demands, brands must continuously innovate and position their offerings to fit a broad definition of clean label, opting for recognizable, healthy and sustainable ingredients that don't sacrifice taste. Making up 40% of new nut products, almonds are the preferred nut in categories like bakery, bars, dairy and cereals6. With almond-based ingredients like almond flour and butter, formulators can introduce new taste and texture experiences, while still appealing to consumers concerned with their own health and the health of the environment.
From baked goods to protein shakes, almonds and almond ingredients can help formulators innovate clean label products that don't just stick to one definition. Instead, they can enhance offerings with sustainable and plant-based nutrition claims that can further evolve the clean label trend.
The Blue Diamond Almond Innovation Center works to initiate new almond product concepts for customers and helps foster innovation for global food and beverage companies. If you're looking for ways to innovate your next clean label offering, contact us today. For more information on the innovative practices our growers are incorporating to grow a more sustainable almond, click this link to access our inaugural Sustainability Report.
References:
1 "Clean Label Ingredients Market By Type," Allied Market Research. 2022. 
2 "Consumer awareness of clean label drives demand for ingredient solutions," Beverage Industry. June 2022. 
3 "How is clean label evolving? Mintel talks regulation, processing, and linking 'clean with green'" Food Navigator. August 2022. 
4 "Consumer interest in sustainability higher than retailers believe," Food Business News. 2022 
5 "A year of innovation in specialised nutrition, 2022," Mintel. 2022. 
6 "Almonds are the Top Nut in New Product Development," Prepared Foods. July 2022. 
Sign Up for Monthly Access to the Latest Insights!
Sign Up for Monthly Access to the Latest Insights!