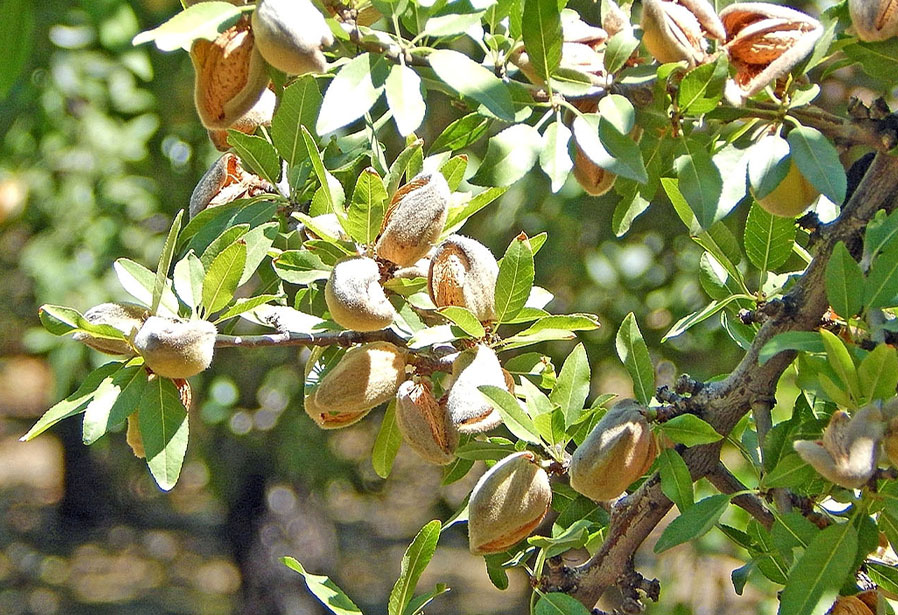 Learn how we're adapting to benefit customers through:
Sustainable Agriculture
Water Conservation
Biodiversity & Pollinators
Climate Impact
About 72%1 of today's consumers consider sustainability to be an important factor when making food purchases, indicating that brands must learn to incorporate sustainable ingredients and practices. For producers, it's especially crucial to be aware of what ingredient suppliers are doing behind-the-scenes to ensure a truly sustainable product for customers.
Sustainability is a key focus of Blue Diamond's grower-owned cooperative. Providing a sustainable product for customers means encouraging innovation through every step of the process, from sustainable agriculture and water conservation to cultivating healthy ecosystems for plants and bees and delivering climate solutions from our growers' farms to our processing facilities.
Our inaugural Growing a Better Tomorrow 2022 Sustainability Report, set to be released later this fall, aims to communicate our sustainable priorities in order to support a more resilient planet for future generations. This report will dive deeper into several focus areas identified by our key internal and external stakeholders that ensure we're addressing material issues for our company and growers while delivering the highest-quality almond products. That way, our customers can feel good about using a product that helps regenerate the environment.
To continue growing a better tomorrow, we're focused on integrating sustainability from our fields to our processing plants. Here are just a few of the ways we're committing to supporting a more resilient planet and providing nourishing products to customers across the globe:
1. Sustainable Agriculture
One survey found that 55% of consumers prefer foods that were grown sustainably2, highlighting the strong demand for ingredients rooted in sustainable practices. To ensure the environment that we cherish can thrive despite climate change and resource constraints, we prioritize sustainable agriculture and regenerative practices in our almond orchards. Our growers are also embracing programs that help quantify the impact of sustainable agriculture, such as:
These programs aim to help growers identify ways to further enhance their sustainable practices.
Global consumers have voiced that it's important for them to know how food and drink brands are conserving water3. As a result, some innovators may be hesitant to use almonds due to the misconception that they use a disproportionate amount of water compared to other crops. Contrary to popular belief, almond farms are extremely efficient with water use, and our almonds use similar amounts of water-sometimes less-than other fruit and nut trees grown in California. We are exploring technology to help assess annual and future water risks and are committed to advancing innovative ways to further water conservation on farms.
3. Biodiversity and Pollinators
As a result of the growing focus on bee and pollinator health, research has shown that consumers are willing to pay a premium for bee-friendly food production4. Without our pollinating friends, our orchard blossoms would not be able to produce most of our almond varieties, such as Nonpareil, Carmel and Monterey. To create an environment in which pollinators can thrive within the orchards, our growers implement a variety of biodiversity practices, ranging from cover crops and planted hedgerows to pollinator-friendly pest management. These practices help ensure the health of honeybees and other pollinators and keep them healthy season after season.
With 46% of U.S. consumers noting they are more inclined to buy eco-friendly products5, formulators should be aware of sustainable ingredients that can differentiate their offerings. To mitigate our cooperative's impact on climate change, we integrate innovation throughout our supply chain, like upcycling of manufacturing byproducts. By assessing our impact, we have a better understanding of what steps we must take when working together to create a strategic plan to reduce greenhouse gas emissions.
For example, we learned we can extend the carbon-absorbing power of almond trees by converting them into woodchips when the trees' lifespan is over. By integrating the woodchips into the orchard soil, the carbon in the wood stays in the soil as organic matter, leading to a healthier soil and environment.
Through the innovative initiatives taken to improve the agriculture, water conservation, biodiversity, and reduce our orchard's impact on climate change, our customers can be confident that they're getting high-quality almond and almond ingredients that are as sustainable as they are nutritious. Formulators will also be able to provide research-backed sustainability claims, like bee-friendly certified, and be confident that they're delivering customers almond and almond products that are contributing to a more sustainable planet.
As customers continue seeking out eco-friendly products, it's essential to start with ingredients that come from a supplier rooted in sustainability. Our sustainability report will provide in-depth data about each of our innovative practices and how they work together to benefit our customers.
Click this link to access our inaugural Sustainability Report.
References:
1 "Consumer interest in sustainability higher than retailers believe," Food Business News. January 2022.
2 "Survey: 55 Percent of Consumers Prefer Sustainable Food Option," Olive Oil Times. February 2022.
3 "Be transparent about sustainable ingredients in beer," Mintel. January 2022.
4 "Visual Attention to Eco-Labels Predicts Consumer Preferences for Pollinator Friendly Plants," MDPI. 2017.
5 "Climate Complexity," Mintel. November 2021.
Sign Up for Monthly Access to the Latest Insights!
Sign Up for Monthly Access to the Latest Insights!