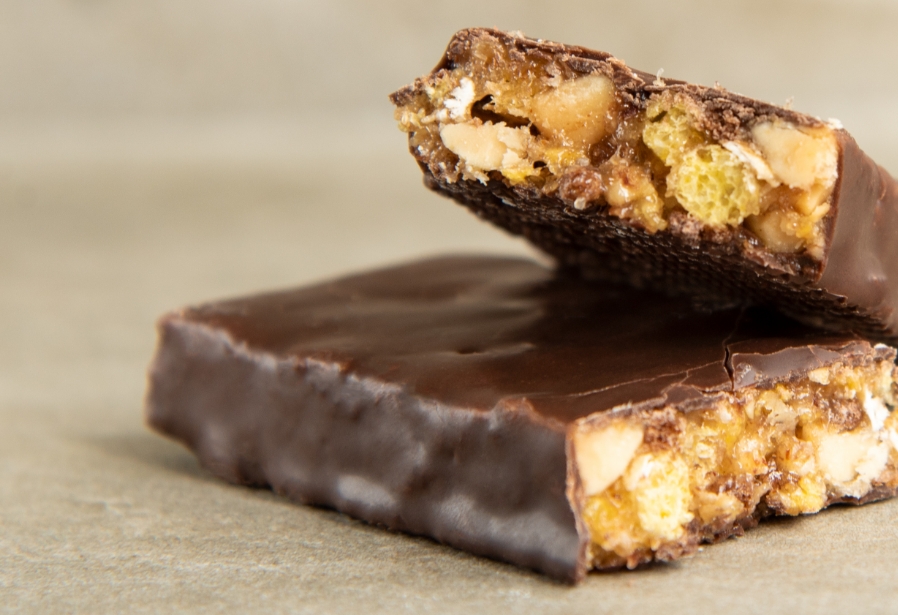 Discover how almond ingredients fit the need for "better-for-us" formulations, such as:
Gluten-Free Almond Pancakes
Almond Protein Bar
Almond Flour Cake
Sustainability, personal health, and lifestyle maintenance are top of mind for many consumers when deciding which food or beverage products to purchase. At least 65% of consumers want to spend their money on foods to live a healthier and more sustainable life1. This highlights the influence and impact that the "better-for-us" trend can have on consumers.
While consumers appear to enjoy the idea of "better-for-us" goods, the foods and beverages available still need to be delicious to be chosen. Fortunately, many shoppers recognize almond ingredients for their flavor, texture, and nutritious benefits3.
Check out some almond-based better-for-us recipe inspirations:
Gluten-Free Almond Pancakes
Gluten-free pancakes made with finely ground almond flour are rich with in-demand functional nutrients, like vitamin E and other antioxidants, with a slightly nutty and sweet taste. Almond flour is a great swap for traditional flour for health-conscious consumers looking for a functional breakfast alternative, but still provides a smooth mouthfeel similar to wheat flour. For a functional boost, almond flour delivers a dose of healthy fats and protein for a satiating breakfast. Top this gluten-free formulation off with a dollop of hearty almond butter for additional health benefits, sweetness and creamy texture.
At least 55% of consumers state that they consume snacks while en route to another location2. Perfect for a midday snack or pre-work out energy boost, almond protein bars are a must-have for today's on-the-go consumer. Sprinkle in almond slivers and incorporate creamy almond butter for a protein-packed energy bar that provides a quick fuel boost anytime and anywhere. When used within a convenient bar application, almond butter packs an additional punch of healthy fats, plenty of protein with a smooth mouthfeel. The almond inclusions bring the satisfying crunch-factor that consumers long for in a convenient package, with heart-healthy benefits4.
As a gluten-free alternative to a cake baked with traditional wheat flour, this almond flour-based treat has a perfectly soft inside, with a light, fluffy texture that consumers want, and expect, from their dessert. Blue Diamond almond growers invest in environmental responsibility efforts around water efficiency, climate, and pollinator health. With the sustainability investment, delicious taste, texture and mouthfeel brought by Blue Diamond almond flour, this guilt-free cake also provides added nutritional benefits, such as fiber, calcium and protein.
Innovating for the future of the "better-for-us" trend enables recipe innovators to cater to consumers concerned about the environment and a healthy lifestyle. Thankfully, producers don't have to sacrifice taste or texture to achieve these goals with the help of Blue Diamond almond-based ingredients. Contact us or request a sample today to learn more about how to innovate with almonds.
References:
1 "Consumers want sustainable options. What food producers, suppliers, and retailers can do now," World Economic Forum. 2023.
2 "Consumers seek craveable snacks for on-the-go eats," Restaurant Business Online. 2022.
3 "Why are consumers and manufacturers choosing almonds?" New Food. 2022.
4 "Decades of Research Spotlight Almonds' Heart Health Benefits" California Almonds.
Sign Up for Monthly&nbspAccess to the Latest Insights!
Sign Up for Monthly Access to the Latest Insights!
Data submitted using this form will be used to provide services and may be used to send marketing materials, in accordance with our Privacy Policy.
Data submitted using this form will be used to provide services and may be used to send marketing materials, in accordance with our Privacy Policy.