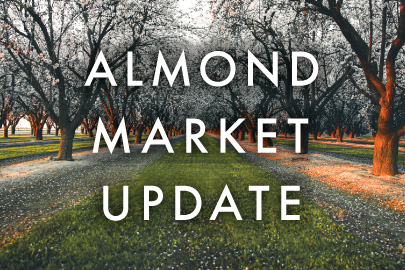 Laura Gerhard
Vice President
OVERVIEW
November shipments were in line with industry expectations recording 204 million pounds for the month. This is 5% lower than last month's performance and 7.5% lower compared to last year. Export shipments fell slightly to 142 million pounds which is 4% lower than last month and 9% lower versus last year. Domestic shipments were also down for the month returning at 62 million pounds which is 6% lower than last month and 5% lower than last year. Year to date shipments were 836 million pounds, 4% behind last year.
SHIPMENTS
India: Shipments to India for the month were 33.3 million pounds, an increase 27% from last year. Shipments for the year are 121.7 million pounds, down 17% from last year. Demand remains healthy given the ongoing wedding season and expansion into non-traditional buying regions throughout the country. While demand remains strong, buyers remain reluctant to take positions given the price instability with product afloat unsold and an abundance of small-sized kernels. The market gradually shifted to sized inshell due to inconsistencies seen in recent years.  
China: Shipments to China were 9.1 million pounds, down 53% to last year. Total shipments to China now trail 23% year to date. The government started to loosen COVID controls, a welcome sign for long-term demand. The market continues to prepare for the Chinese New Year against a backdrop of rising COVID cases. While buyers remain mostly cautious some are starting to put on coverage for post-CNY demand.  
Europe: Shipments to the European market were down 20% for the month compared to last year.  Excess inventory positions taken during the summer months continue to keep almond supply plentiful in the region.  Strong shipments to Spain, up 16% for the year, continue as processors in that market have taken advantage of the high carry-in and low-cost inventory positions of California. The Euro strengthened slightly over the past month, which pushed some to make buying decision in to 2023. Concerns continue around overall almond demand, continued inflationary pressures and energy costs. With the market well covered, expectations are for continued lighter shipments in December. The European market remains largely uncovered in to 2023. 
 Middle East: Shipments to the Middle East continue to exceed expectations, as the market is up 31% to this time last year.  November and December provide the last shipping window to Ramadan 2023 and inventories in the market remain high, but the market continued to remain active in November. Like Spain, the Middle East has been able to take advantage of 2021 carry in inventory of large size almonds at lower pricing levels.  
Domestic: Domestic shipments came in at 61.6 million pounds for November, down 5% to last year. Manufactured products posted a 2-million-pound decline from last year and was the leading cause for the year-over-year decrease. In total the domestic market is down 6% year to date. Although inflationary pressure has eased slightly, uncertainty persists regarding the total macro-economic effects on US almond demand. 

COMMITMENTS
November commitments decreased slightly to 691 million pounds which is down 8% to last year. New sales for November trailed last season by 25 million pounds at 201 million pounds, down 11% vs last year. Uncommitted inventory now stands at 1.4 billion pounds, 13.5% higher than last year at this time. Sold and shipped as a percent of total supply, assuming a 2.6 billion crop, stands at 45% compared with 47% last year.
CROP
Crop receipts total 2.15 billion pounds. After the first 4 months the 2022 crop trails last season by 7% continuing to point towards a final receipt number of 2.6 billion pound crop. Nonpareil receipts now trail last year by 8% with the Independence variety up 8% and the Monterrey variety up 3% versus a year ago levels. Year to date total supply for the crop is 2.94 billion pounds, up 2.4%. 
In mid-November Land IQ released their final estimate for the 2022 almond crop standing acreage. Total acres are estimated at 1,637,209 acres which is made up of 1,342,920 bearing acres and 294,289 non-bearing acres. Compared to last year's crop this puts bearing acres up 2.5% with total acres down 1.5%.  
Market Perspective
November shipments were in line with market expectations, maybe even slightly better than many were thinking. Although expected it is still not what is needed to reduce the current high inventory position as the industry remains behind last year's pace with lighter shipments through the first four months. Asia continues to underperform versus last season while the Middle East continues to turn in strong shipment figures.
Price is needing to stabilize, the already affordable levels are doing little to spur demand as markets continue to struggle with macroeconomic challenges. The industry has its work cut out for it as it remains focused on moving supplies. The market will closely monitor upcoming holiday consumption for demand potential into the spring months.
Harvest is complete and a majority of the 2022 crop has been delivered. Given this the industry is gradually aligning around a 2.6-billion-pound crop. The next major milestone will be the bloom in February.
To view Blue Diamond's Market Updates and Bloom Reports Online Click Here
To view the entire detailed Position Report from the Almond Board of California Click Here