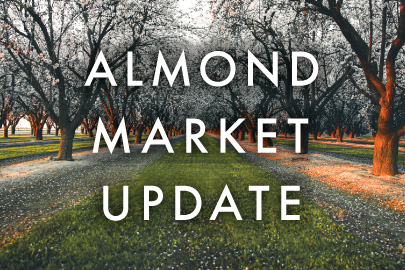 Laura Gerhard
Vice President
OVERVIEW
Shipments were ahead of industry expectations for the month of December recording 206 million pounds for the month. This is 1% higher than last month's performance and 9% higher than a year ago. Export volume increased to 153 million pounds which is 8% higher than last month and 24% higher compared to last year. Domestic shipments are down for the month at 52.5 million pounds which is 15% lower than last month and 18% lower than last year.
SHIPMENTS
India: December shipments were 33.3 million pounds which is up 37.5% from last year. YTD shipments now stand at 155 million pounds and have improved versus last year which now trails 9%. Indian demand remains active while the market works to replenish stocks following strong sales during Diwali. Future demand potential looks positive as both Nonpareil and Independence inshell have enjoyed robust sales and is expected to continue for both varieties.  
China: Shipments to China were reported at 1.7 million pounds. This is down 44% from last year, with YTD sales now trailing 24% versus last year. This is the lowest registered month of shipments since January 2020. Demand signals have turned optimistic with the government's loosening of COVID controls and opening the border to international travel. The market will be closely watching consumption during the Chinese New Year holiday. Additionally, buying activity has picked up in recent weeks with expectations of post-CNY demand.
Europe:  Shipments to the European market were up 20% for the month compared to last year led by strong shipments to the Netherlands and Spain, up 74% and 21% respectively. Inventory positions continue to keep almond supply plentiful in the region with an availability of a new and old crop blend. Strong shipments to Spain continue as processors have continued to take advantage of low-cost standards and SSR from California. The Euro has also seen strength versus the dollar over the past month, which has added to the increase in buying decisions. As the market has moved through the holiday season, a retail demand review is in progress and the market has picked up activity for shipments in the first and second quarters of 2023.
 Middle East: Shipments to the Middle East continue at an exceptional pace, as the market is up 38% year to date. The Middle East market showcases what can happen when market prices are immediately passed to the end user. Demand to the region continues to be robust. November and December provided the last shipping window for Ramadan 2023. As prices continue to be attractive to buyers and consumers throughout the region, demand is likely to continue as we move into the first quarter of 2023  
Domestic: Shipments within the domestic market were reported at 52.4 million pounds, down 18.4% from the prior year. In total, the market is now posting an 8.7% decline over last year's shipment pace, a deficit of 12 million pounds. Despite pricing being at very attractive levels, the North American market continues to experience sluggish demand as consumers are cautious in their purchasing habits. Buying is primarily hand to mouth as the market searches for pricing and demand stability.

COMMITMENTS
December commitments are 720 million pounds which is down 11.3% to last year's. New sales for the month were 235 million pounds which is down 5% from last year. Uncommitted inventory remains around 1.4 billion pounds which is 4.9% higher than last year at this time. Sold and shipped as a percent of the total supply (assuming a 2.6 billion crop) is 52% compared to 54% last year.
CROP
The 2022 crop is approximately 90% received with receipts now totaling 2.38 billion pounds. This is down 10.6% to last year and points to a crop production of 2.6 billion pounds.
California received heavy rainfall and strong winds in December and early January. This increased the reservoir and snowpack levels heading into the bloom season. However, the rainfall is being received all at once. This is not the most productive rain event with the ground fully saturated, a lot of the rain is now runoff and not fully absorbed into ground reserves. California has been in a prolonged drought for 3 years. It will take a little time to understand how this rain event ultimately affects the crop.
Market Perspective
December shipments came in above industry expectations with exports leading the way. The domestic market continues to see weaker shipments versus last season while the industry received a boost from stronger shipments to Europe and India, and the continued exceptional pace of shipments to the Middle East.
New sales for the month were encouraging but remain behind last season's pace. Price continues its gradual slide in search of demand as buyers are incentivized to remain hand-to-mouth. The dollar has weakened against key foreign currencies, a positive sign as some export markets consider replenishing supplies after the Christmas and New Year holidays. The industry will continue to focus on demand opportunities in its efforts to drive down the carryout.
Approximately 90% of the crop has now been received. Receipts continue to point to a 2022 crop of around 2.6 billion pounds. The next major milestone is the almond bloom in February. The industry will continue to evaluate the prospects of the 2023 crop as well as monitor the effects of the recent rainfall.
To view Blue Diamond's Market Updates and Bloom Reports Online Click Here
To view the entire detailed Position Report from the Almond Board of California Click Here