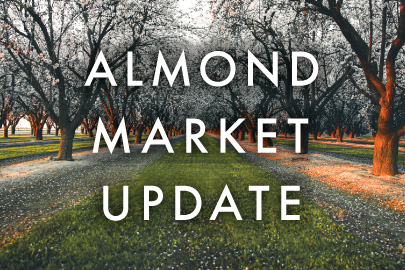 Laura Gerhard
Vice President
OVERVIEW
January shipments exceeded industry expectations and set a new record for the month at 229 million pounds which is 11.3% higher than last month's performance and 29.6% higher than a year ago. This is the third straight month of shipment growth and positions the industry ahead of last year's pace by 2.6% after six months, a welcomed sign to an industry trying to drive down the carryout. Export volume improved to 163 million pounds which is 6% higher versus last month and 47% higher versus last year. Domestic shipments rebounded to 66.5 million pounds which is 27% higher than last month and flat to last year.
SHIPMENTS
India: A third consecutive month of strong shipments continued closing the gap to last year's levels. January shipments were 34.7 million pounds and up 52% to last year. Year-to-date shipments to India now stand at 189.8 million pounds, only 2% behind the same time last year. With improved logistics and shipping from California, a more regular cadence is anticipated moving forward. With Diwali sales now in the rearview strong demand is expected to continue with the wedding season and growth in non-traditional buying regions. Additionally, sales for the Indian market will be top of mind with the upcoming Gulfood show in February.
China: Following an underwhelming December, January shipments to China were 5.8 million pounds which is 90% higher to last year. Year-to-date shipments are now 20% behind last year's pace, a 4% improvement from the prior month. This market has been very active now that the government lifted COVID restrictions and opened its border as evidenced by good consumption reported over the Chinese New Year holiday. Australian shipments to China have started to pick up and will play a factor in the market over the coming months with harvest beginning. Purchasing is expected to remain strong into February and March as buyers look to replenish inventories that were at conservative levels during the COVID period.
Europe: Shipments to the European market were up 59% for the month compared to last year led by strong shipments to Spain, up 78%.  Processors and traders throughout the region continued to take advantage of low-cost standards and SSR in lieu of a smaller Spanish crop. Reports from retailers regarding demand during the holiday season were mixed with many expecting supplies to last longer into 2023. The market had very strong sales activity during January, assisted by a stronger Euro, as the European trade and processor community continued to cover demand for 2nd and 3rd quarter shipments at historic low levels.
 Middle East: Shipments to the Middle East remained strong, up 89% to last year and 45% year to date. Market activity in January and early February helped to bolster nonpareil prices in the past few weeks. As prices continue to be attractive to buyers and consumers throughout the region, demand is likely to continue into the 1st quarter of 2023.
Domestic: The domestic market rebounded from two months of year-over-year declines and recorded strong shipments for the month of 66.5 million pounds which is flat to last year. The region remains down 7.2% to last year for a total of 28.4 million pounds. January also recorded the second-highest month of new bookings this crop year at 85 million pounds which put the domestic market 6.5 million pounds ahead of last year. The uptick in shipments and new sales is a positive sign for this market.

COMMITMENTS
January commitments improved to 840 million pounds and are now flat to last year. New sales for the month set an all-time record for January at 350 million pounds which is up 68.6% to last year. This is the second-largest new sales figure in history.  With strong sales activity in January and into February, uncommitted inventory stands at a more favorable 1.15 million pounds, down 11.4% to last year. Sold and shipped as a percent of the total supply (assuming a 2.55 billion crop) is 63.3% compared to 59.9% last year.
CROP
The 2022 crop is now approximately 95% received with receipts totaling 2.475 billion pounds. This is down 12.5% to last year with many in the industry now projecting a crop production under 2.6 billion pounds. Nonpareil receipts are down 12% to last year. The Independence variety, while up 1% to last year, is underperforming against early expectations for its production potential.
Market Perspective
January shipments came in above industry expectations for the second month in a row with a strong showing for both export and domestic shipments.  Through the first half of the crop year shipments to Europe, the Middle East, and Northern Africa, out pace last season and have propelled year-to-date export shipments up 7.2% versus a year earlier.
Affordable prices and an improved macro-economic environment spurred demand as evidenced by a strong month of new sales putting the industry ahead of last year's pace. Purchasing looks to remain strong into February. With sales now on pace (slightly ahead) to last season, look for pricing to stabilize in the short term at higher levels than the lows seen for much of January. The industry will continue to focus on demand opportunities in its efforts to drive down the carryout.
The industry is now expecting a 2022 crop closer to 2.55 billion pounds. With the crop now 95% received all eyes now turn to the 2023 almond bloom in February.
Come visit our stand at Gulfood 2023 in Dubai – Sheik Saeed Hall 3 Stand S3-E33 – February 20 – 25.
To view Blue Diamond's Market Updates and Bloom Reports Online Click Here
To view the entire detailed Position Report from the Almond Board of California Click Here